7 Of The Best Amazon Finds For Pet Owners
As pet pawrents, we know that there's no better feeling than spoiling your pup — because you know they deserve it. All the love and affection that our pets give us should be rewarded with daily pampering. But with all the pet supplies out there, from trendy pet jackets to "miracle" brushes, how do you sift through the junk to find the gems? We're here to help. Here are seven of the best buys you can find on Amazon for your pets. You're welcome!
1. For the dog who sheds uncontrollably — Shed Defender
You love your pup, but you're probably sick of cleaning up unwanted dog hair that constantly appears all over your couch and carpet. That's why you need Shed Defender, the dog-friendly onesie that'll contain all of your pup's hair once it sheds. It's made from breathable athletic mesh fabric and is available in eight sizes — from mini all the way to XXL. Find it on Amazon Prime in hot pink, black, purple, red or royal blue — a color for every type of pup!
You're a proud rescue dog owner and you adore your unique pup with an untraceable background. But, there is a tiny part of you that wants to know the ancestry of your furry best friend. The Wisdom Panel Breed Identification test helps identify your dog's background from over 250 breeds, all with a simple cheek swab. For a reasonable price, this doggy DNA test can also help pawrents identify potential health issues that are more prone to occur in your pup. Get yours on Amazon now.
Are you looking for an easy way to keep your cat or dog entertained for hours while you're gone? The VARRAM Pet Fitness Robot will keep your pet active and occupied. You can make it zoom around the room to help your pets get their fitness on and make it dispense treats as a reward for their hard work. You'll be able to control the bot from an app on your smartphone and schedule automatic play, obstacle avoidance and treat tossing. Get your furry friends the gift that keeps on giving!
This vest is perfect for the pup who would rather live year-round in Antartica. The stylish Ruffwear cooling vest provides sun protection and evaporative cooling, keeping your dog cool during the dog days of summer. Whether you plan to take your pup camping, on a hike, or simply for a brisk walk around the block — this vest will keep them cool and comfortable. With 4.3 out of 5 stars on Amazon, you just know this vest will work some magic.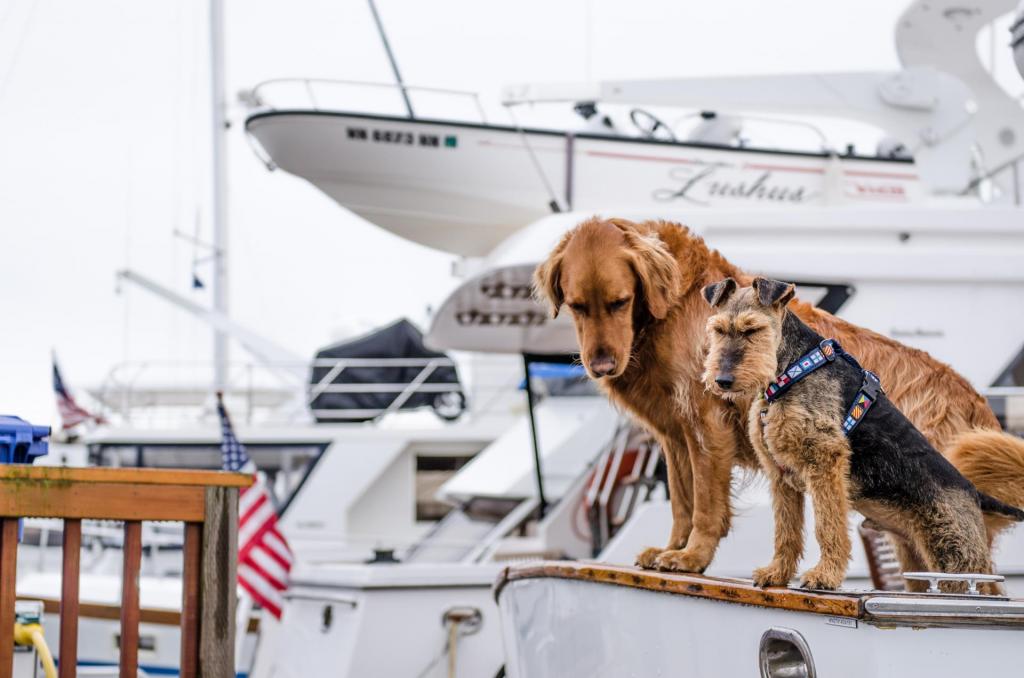 Avoid tangled leashes and pups stepping over one another on your next walk with your furry friends. The Wigzi Dual Doggie Pet Leash lets you successfully walk both of your pups at the same time with no drama. It even allows you to control the amount of leash that you give each dog individually as they roam around. Walking your four-legged best friends should be enjoyable, not stressful, so get your dual dog leash today.
Shower time just got a whole lot easier, thanks to this at-home shower head attachment for doggy bath time. The Waterpik Pet Wand Pro allows you to give your dog a professional-grade shower at home. Simply attach the shower head to your existing shower or to an outdoor garden hose. The unique wand shape allows you to quickly and easily bathe your pups all over, effectively cleaning those with even the thickest coats. This product is rated 4.6 out of 5 stars on Amazon. See for yourself.
If you have a new puppy or an older dog who tends to make messes when you're gone, a crate is a necessity. The iCrate folding metal dog crate stands out from the rest because it folds flat so you can easily store it and keep it out of the way when you're not using it. It also fits into the back of your car, allowing you to take it with you wherever you go. Pawrents love this crate, and it has over 22,600 reviews on Amazon with a 4.5 out of 5-star rating.
Swirled may be compensated when users click on the affiliate links in this newsletter. Products are in stock at the time of publication.
RELATED
How The Costs Of Owning A Cat And A Dog Compare
Why Almost Half Of Millennials Are Choosing Pets Over Babies
8 Gifts For The Dog Lover In Your Life