Friday Fluff 07/26/2019: The Cutest Dogs Of The Week!
Get adorable pups in your inbox — sign up for Friday Fluff!
Say hey to the cutest dogs of the week!
Oscar, Bridle French Bulldog, 2 Years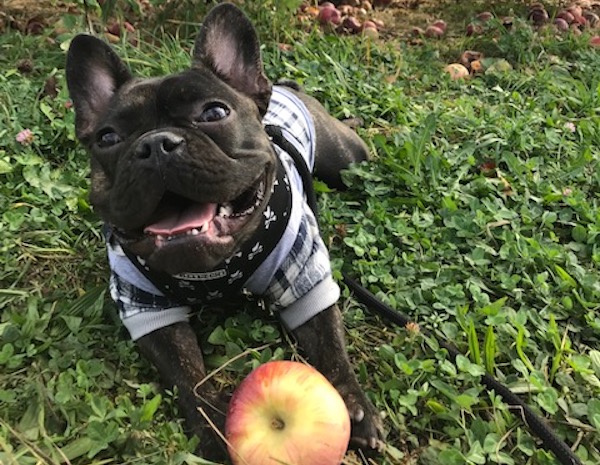 Fun fact: Other than apple picking, Oscar also loves car rides and flying in planes — he's an adventurous pup!
Did you know? French bulldogs come in a variety of colors, including fawn, cream and various shades of brindle. Bridle French bulldogs have a coat patterned with specks and streaks of light and dark markings. [American Kennel Club]
Phyllis, Mixed Breed, 2 Years Old (Up For Adoption)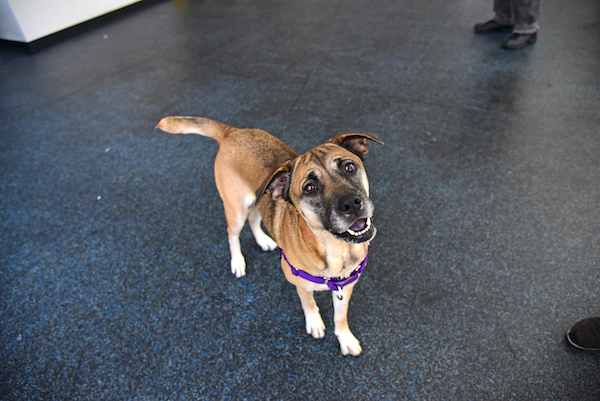 Fun fact: Phyllis is a loving pup and she's adored by everyone because of her snuggles, kisses and her big, beautiful smile. Phyllis has a BFF named Saul and the two are on the hunt for a forever home together. They're currently both up for adoption but they're a bonded pair which means they'll have to be adopted together. Want to find out if Phyllis and Saul are the pups for you? Learn more here or contact the ASPCA directly.
Did you know? Are you set on owning a purebred? You should know that adopting a mutt comes with loads of perks. First off, mutts tend to have fewer health problems compared to purebred dogs. That's because purebred dogs are more prone to genetic diseases. Mixed breeds are also extremely unique so if you pride yourself on not following trends, these pups are for you! [Dogster]
Chewie, Pomeranian, 4 Years Old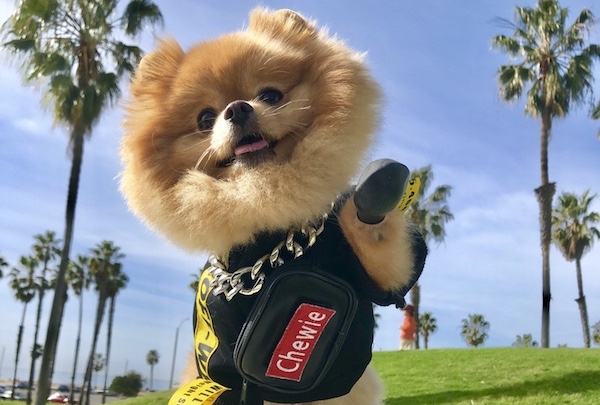 Fun fact: With over 100 thousand followers on Instagram, Chewy is almost as famous as your favorite celebrity. He's known for giving the most adorable high-fives and for chronicling his daily adventures on social media.
Did you know? Do you want to teach your pup a command that's a little more impressive than simply "sit" and "stay"? Some tricks are easier to teach than others. A few of our favorites that don't require too much training include "shake hands", "take a bow" and "roll-over". Here's how to do it. [Rover]
"Until one has loved an animal, a part of one's soul remains unawakened."
— Anatole France
Editors' Picks: Our Favorite Buys Of The Week
Cool Kitchen Products: If you want to upgrade your kitchen with some sleek and chic items, but are hesitant to lay down your dollars, look no further. These gadgets will make any takeout enthusiast excited to step in the kitchen and cook up some new creations.
Must-Try Grill Tools: There's no better time than now to upgrade your grill game. From an apron that hides all the stains to our pick for the best charcoal grill, we've got you covered so you can master the grill.
Pamper Your Puppy Sweepstakes: Enter now for a chance to win a care package full of dog treats and goodies for your new pup! Prizes include:
$200 The Dog Bakery gift certificate
$200 Barkz gift pack that includes treats, shampoo, and a gift card
$200 Dog is Good gift basket and gift card
$200 LocalDawg gift pack that includes a free subscription, medical kit, dog bowl, collar, leash, t-shirt and stickers
$200 PupJoy gift card
$249 King Kanine gift pack that includes pet shampoo, paw cleaner, paw moisturizer, 3 CBD Treats, and their highest CBD concentration
$250 Visa Gift Card from the Friday Fluff team
Welcome home your new family member the right way. Enter now!
Swirled: Get the intel you need to own your life and love it! Sign up for Swirled today and get a daily dose of lifehacks plus food, travel, wellness and career inspo.
Swirled may be compensated when users click on the affiliate links in this newsletter. Products are in stock at the time of publication.
Did you receive this newsletter from a friend? Sign up for Friday Fluff here to get cute dogs in your inbox every week.
P.S. Want your dog to appear in Friday Fluff? Send a picture of him or her (at least 600px by 400px) along with name, breed, age when the photo was taken and a fun fact about your furry friend to [email protected]. We'll do our best to feature your dog in our email and social media feeds.