These Celebrity Dogs Are Almost As Famous As Their Owners
One thing that unites people from all walks of life is our universal love for dogs. Most of us believe that living life with a pup by our side makes it a whole lot better (unless of course, you're a cat person). Celebrities and prominent public figures are no different. Even though their lives are very different from most of our own, they still find comfort in being snuggled and sniffed by cute doggies. Here are our favorite adorable pooches that share the spotlight with their celebrity pawrents.
1. Bo and Sunny Obama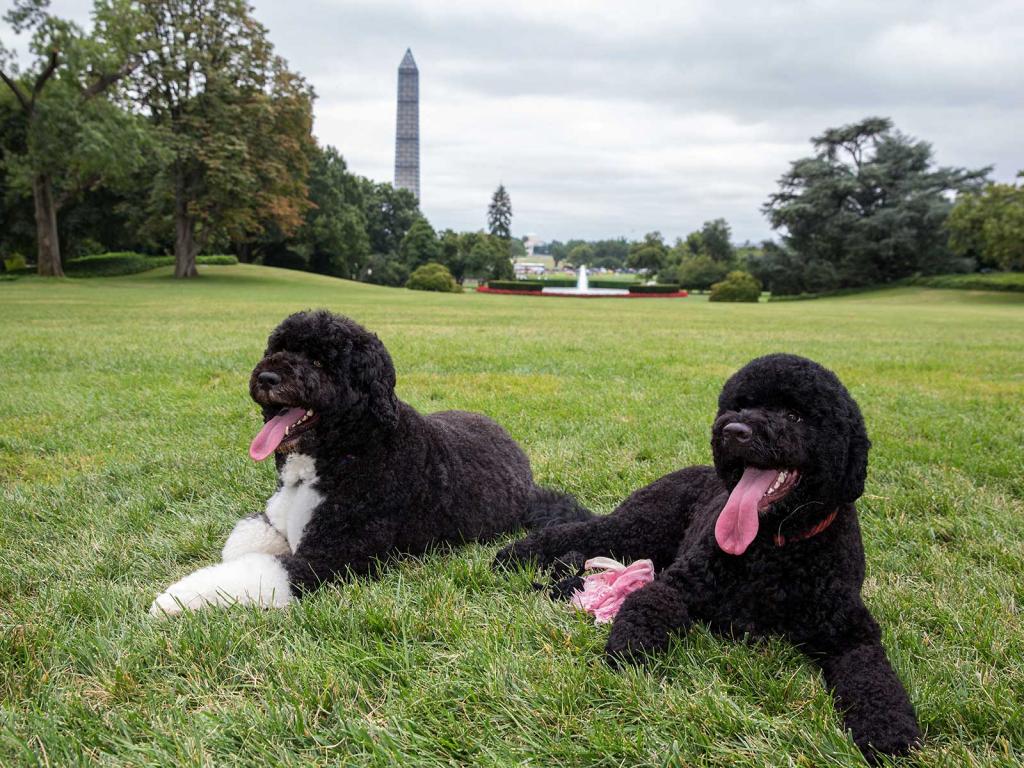 These two Portuguese Water dogs have spent their fair share of time in the White House and in the limelight. So far, Bo and Sunny Obama have lived a life that's far from that of the average dog. They've enjoyed long walks on the White House lawn, travel aboard Air Force One and endless love and belly rubs from White House staffers and daily visitors. Regardless of your political beliefs, we can all agree that these pups are adorable.
2. Tinkerbell Hilton
Paris Hilton has many dogs, but the one who has enjoyed the most time in the spotlight was her beloved Chihuahua Tinkerbell. Sadly, Tinkerbell passed away in April 2015 of old age (she was 14), but she lived a long life — until the age of 98 in dog years! Tinkerbell, who often rode in Paris Hilton's purse, is most notably known for launching the "handbag dog" trend of the early 2000s. Tinkerbell was also a regular on "The Simple Life," Hilton's reality show with Nicole Richie.
3. Wolf, Mable and Augie DeGeneres
Ellen DeGeneres loves animals as much as the next pawrent — she even has her own line of pet items at PetSmart. The ED pet line reflects Ellen's humor and features dog bowls with sayings like "take life one toy at a time." DeGeneres proves her love for animals in her private life too, having rescued three dogs and three cats. Her dogs are Wolf, a Maltese-Poodle mix, Mable, a Standard Poodle and Augie, a Jack Russell mix. Ellen hasn't revealed many details about her pups to the press, hoping to keep their lives somewhat private.
4. Pablo, Penny and Pippa Teigen
Model Chrissy Teigen and her singer-songwriter husband John Legend are proud pup pawrents of four adorable dogs: Pablo the English Bulldog, Penny the French Bulldog, Pippa, also a French Bulldog, and Pepper, the newest member of their furry family who is a 2-year-old English Bulldog. Teigan isn't shy about sharing adorable pictures of her four-legged children on her Instagram feed.
5. Homer and Harper McCarthy
These two Golden Retriever pups are lucky enough to be the children of hilarious comedienne Melissa McCarthy. The actress got a lot of laughs when she went on "The Ellen DeGeneres Show" and compared her new golden pups to models. "They're pretty … they're not very bright," she said.
6. Hobbs Johnson
This adorable little French Bulldog is a stark contrast to his owner, the huge, muscle-clad Dwayne Johnson (aka The Rock). The two frequently exercise together and The Rock has said that Hobbs motivates him to push through his grueling workouts. The little pup is lucky enough to follow his dad on set and when he travels the world. We have to admit, we're a little jealous.
7. Wallace, Fina, Chazz, Baylor, Chip and Willie Gomez
Selena Gomez could shell out tons of cash for a pricey designer dog, but she prefers to adopt her dogs from the shelter. So far, she's rescued a total of six dogs: Wallace, an adorable mutt that loves to play fetch; Fina, another rescue doggo that Selena describes as her "diva"; Chazz, a rescue pup from Puerto Rico; Baylor, a husky mix that Selena rescued on a trip to Canada with Justin Bieber; Chip, another adorable mutt; and Wille, a Labrador Retriever. You might think that six dogs is a lot for one person, but we're sure that her pooches have plenty of space to roam around in Selena's $2.35 million home.
Want more dogs in your life? Sign up for Friday Fluff, a newsletter featuring the week's cutest pups!
RELATED
This Is Why You Will Never Look Like Your Favorite Celebrity
Swipe Right To Find Your Perfect Pup Match With This New App
8 Adorable Pup Instagram Accounts To Follow For Daily Doses Of Cuteness
Sign up for our newsletter.
Say hello to the best part of your day.