You Don't Need To Save As Much As You Think To Take That Dream Vacation
How much money do you think you need for a year-long trip around the world? If you can't even imagine how to begin doing that kind of math, you're in the right place. Because we love travel math, we estimated the least amount of money you'd need to do 15 different types of dream trips, ranging from one week in Europe to an entire year around the world.
Now, a word of warning: These numbers are for budget trips. If you're a five-star hotel lover, you'll require a much larger allowance. Budget travel means staying in hostels or basic Airbnbs. It means shopping at local grocery stores instead of eating at trendy restaurants. And it means taking advantage of free walking tours, public transit and cross-country buses instead of double-decker tour buses, taxis and first-class trains.
But everyone travels differently. So if you want to swap hostels or Airbnbs for boutique hotels, do it. The same goes for eating fancy meals. Just factor in an extra $50 to $100 per day and do some math to reach a total that suits your travel style.
1 Week…
In London or Paris: $995 to $1,295
Thank goodness for increasing budget flight routes to Europe! From the East Coast, you can find $300 flight deals or $500 regularly priced flights from other areas of the country Now, $75 a day is cutting it close here, so be prepared to spend close to $675 for a week of food and fun.
In the Caribbean: $1,020 to $1,320
Flights to the Caribbean will likely cost you from $300 to $600, depending on your island of choice. Daily costs in the tropics can be high, even if you're not going all inclusive, so a week will probably be around $720 in accommodations and food.
In Thailand: $1,060 to $1,260
Although you can easily spend less than $400 on a week's worth of daily expenses in Thailand, the flights will get you. Watch for those $700 flights, but if you want to hop from Bangkok to the gorgeous Thai islands like Ko Samui by plane, save room in your budget for another $300 flight.
2 Weeks…
In Eastern Europe: $1,240 to $1,440
You'll only need around $40 a day, or $640 total, in Eastern Europe (which includes spots like Hungary, Romania, or Montenegro). But contradicting the low daily costs, flights can be pricier to fly into smaller (cheaper) cities. Think $600 to $800.
In Western Europe: $1,380 to $1,580
If you're hitting the big spots like Paris, Berlin and Amsterdam, you'll want at least $55 a day in your budget. That's $880 for two weeks (with three weekends to maximize vacay time). Flights range from $300 to $700, depending on your home base.
In Peru: $1,300 to $1,600
Baseline expenses in Peru are affordable at $800 for two weeks. (However, if you want to do a guided tour of Macchu Picchu, this estimate needs to increase.) Flights to the South American country are likely in the $500 to $800 range.
In Bali: $1,600 to $1,800
Getting to Bali is the bulk of your expenses for two weeks in paradise. Flights are often around $800 to $1,000. But once you're there, cheap food and lodging and plenty of beach time mean your daily costs can stay below $800 for the entirety of your trip.
In Japan: $1,820 to $2,120
Japan is expensive. And it's not just expensive to fly into, although you could pay anywhere from $700 to $1,000 to reach the island country. For two weeks exploring Osaka and Tokyo, you'll need at least $1,120.
In Australia or New Zealand: $2,020 to $2,320
That long flight down under is not cheap, friends. Expect to pay $900 to $1,200 to reach Australia or New Zealand — unless you snag a super deal. Once you're there, daily costs hover around $60, or $1120 for two weeks.
On an African Safari: $3,500 to $3,900
There are African safaris that cost thousands of dollars per night, but we're guessing you're looking for something more manageable. With $2,500, you can find a budget tour or piece together your own with a guide. Flights to Nairobi or comparable airports could still be $1,000 to $1,400.
1 Month…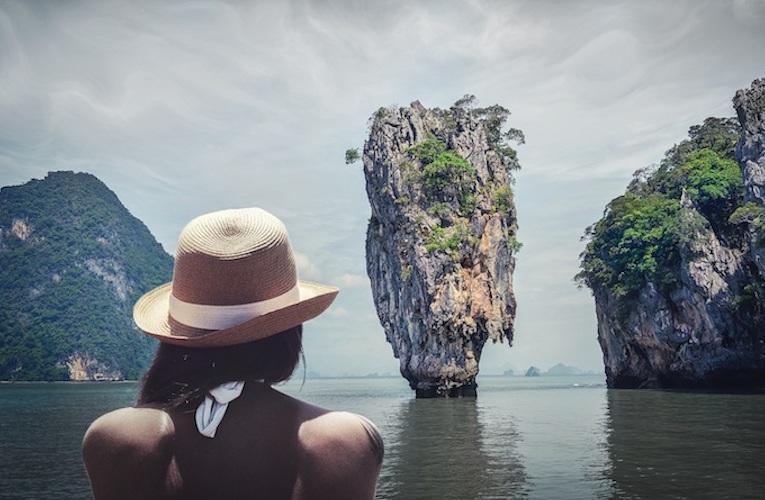 Backpacking through Southeast Asia: at least $2,300
If you're clever, you can make $1,000 in flights work for Southeast Asia as well. Commuter flights between countries in the region can be $50 or less, so a roundtrip ticket is easier to manage here. When it comes to daily costs, you can make it on $1,240.
Backpacking through Europe: at least $2,550
Unless you're doing a circular route, you probably need two one-way tickets and potentially a couple others to hop between Euro capitals on your backpacking trip. For flights, $1,000 should cover you, especially if you scan the deals carefully. For 31 days backpacking, plan to spend at least $1,550. (However, you'll need more if you plan to spend all your time west of Germany.)
Backpacking through South America: at least $2,860
The range of expenses in South American varies. Going to Peru? You can make it on $30 a day. But Brazil? You might need closer to $75. If you do a mix of destinations with different costs of living, estimate around $1,860 for food and accommodations. If you're prepared to take long-distance buses around the continent, $1,000 in flights should be plenty.
Longer Adventures…
Six months around the world: at least $10,500
Using the average $50 a day (things'll vary from region to region — you are doing the entire world, after all), half a year adds up to $9,150 in daily costs. Give yourself $1,500 for flights and you can get a selection of one-way tickets and commuter flights.
One year around the world: at least $20,500
Fifty dollars a day for 365 days is $18,250. And let's say you budget $2,000 for flights. You can definitely get to and from home and have some spontaneous excursions via plane every few months. You lucky duck! A year traveling is the absolute dream.
You can make it happen.
These numbers might look intimidating but remember that you don't have to go tomorrow. Whether you decide to save up for a month or two years, what matters is that you make that dream trip happen when the timing is right for you. (But if the timing is soon, check out our guide to saving money for travel.)
Wondering where we got our numbers? We drew budgeting inspiration from How to Travel the World on $50 a Day author Nomadic Matt's estimates for different destinations and researched traveler chatter from regions around the world, as well as flight averages from Skyscanner, Google Flights and Kayak.