8 Crazy Kit Kat Flavors That Sugar Addicts Need To Know About
When you think of the popular Kit Kat candy bar, you probably picture classic flavors like white chocolate, dark chocolate and milk chocolate. What you probably don't know is that there have been more than 300 limited-edition, seasonal and regional flavors of this candy bar produced in Japan since the year 2000. And these flavors are anything but basic. There's tea-flavored Kit Kats, veggie-flavored Kit Kats, fruit-flavored Kit Kats and even dessert-flavored ones. Although most of these original Japanese flavors aren't available in stores within the United States, you can typically buy them on Amazon. Here are eight of the craziest flavors that you might want to consider taste-testing.
This unique Japanese Kit Kat takes on the interesting flavor of the purple sweet potato, the lesser-known cousin of the popular orange-fleshed variety. Customers compare the taste of this candy bar to that of sugar plums or plum pie. Many of those who have tasted it say that it's one of the sweeter Kit Kat bars on the market.
Japan is known for its unique green tea-flavored candies and desserts, so it's only natural that they'd come up with a green tea-flavored Kit Kat as well. Many customers who have tasted these candies maintain that chocolate and matcha green tea make the perfect couple.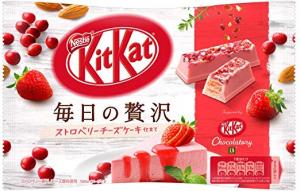 Quite possibly the best mash up of flavors. The distinct crunch of a Kit Kat with the unmistakable taste of yummy, fresh strawberry cheesecake. The only problem we hear is how fast they disappear! Try them and take your cheesecake on-the-go!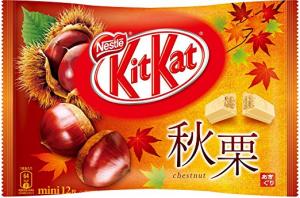 Nut-flavored chocolate bodes well in our book, so we'd be interested to try these chestnut-flavored Kit Kats. These original Japanese chocolate bars are made with white chocolate and filled with chestnut flavoring. Some customers also tasted a distinct cinnamon flavor in these bars. Savor the flavors of fall for yourself.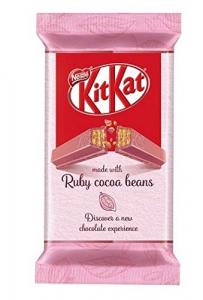 Our friends across the pond have some amazing Kit Kat varieties too, like the limited-edition variety made with Ruby cocoa beans that give the candy a distinct blush. The taste is described as white chocolate with a more fruity undertone (like berries). Yum!
If you're a fan of wasabi, you'd likely love these wasabi-flavored Kit Kats. But if you steer clear of wasabi at all costs, even when it comes to your sushi order, you should probably opt for a tamer Kit Kat flavor. According to some customer reviews on Amazon, these candy bars mainly taste like white chocolate with a subtle hint of spicy wasabi. Are you up for the challenge?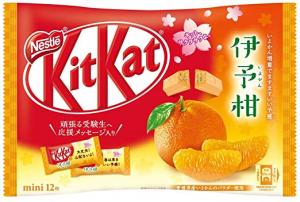 We're a fan of of chocolate-covered oranges so we knew that an orange Kit Kat was definitely going to make the list of top Kit Kat flavors to try. The candy is sweet and reminiscent of a classic Dreamsicle bar. BRB, headed to Amazon now.
This Japanese Kit Kat flavor is one of the weirdest ones on the market. It's made with red bean paste and milk chocolate. Reviews of the candy bar are mixed, with some customers claiming that the flavor is "hard to describe" and unlike anything they've ever tasted. Purchase a box on Amazon and try them for yourself.
Bonus: Surprise yourself or the Kit Kat lover in your life with a 16 piece variety pack from Amazon. It's got everything you could want in a Kit Kat sampler.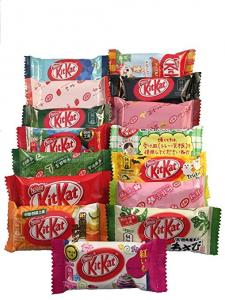 We hope you find these products yummy! Swirled may be compensated when users click on the affiliate links. Products are in stock at the time of publication. 
RELATED
New Kit Kats Are Filled With Cake And We Need Them, Like, Yesterday
5 Amazing Candy Subscription Boxes Every Sweet Tooth Needs
17 Weird Japanese Snack Foods That Will Make You Say 'WTF?!'