5 Savory Crêpe Recipes For The Best Brunch Ever
The word "crêpe" might intimidate you — it probably makes you think of fancy French cafés and Parisians who look down on you because of your far-from-perfect French accent. But believe it or not, making a crêpe is actually not that difficult. It's not too dissimilar to making pancakes from scratch. All you need to make the crêpe batter is flour, sugar, salt, milk, eggs and butter, a blender and a skillet. Here's a simple crêpe recipe that you can follow in your own kitchen.
Now, if you just don't have time to make homemade crêpes (and we don't blame you) you'll usually be able to find premade varieties at your local grocery store. Whether you choose to make your crêpes from scratch or to buy the pre-made kind, the key to a delicious crêpe is the right filling. Here are five yummy savory crêpe recipes that you'll absolutely want to make the next time you're hosting brunch.
1. Steak, Spinach And Mushroom Crêpes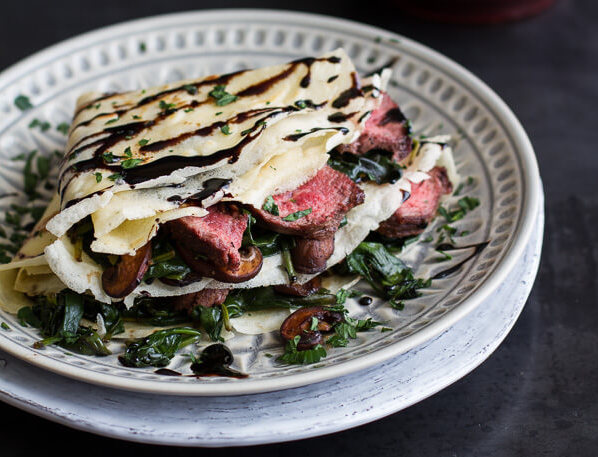 Instead of making the same old sad spinach-and-mushroom omelet, consider stepping up your brunch game with this savory meat-lovers crêpe recipe from Half Baked Harvest. The recipe calls for filling your crêpes with slices of grilled or seared steak, sautéed baby mushrooms, sautéed spinach and blue cheese crumbles. You'll top your crêpes off with a slightly sweet homemade balsamic glaze made with balsamic vinegar and brown sugar. Now that'll get us out of bed — even on a Saturday morning! Believe it or not, you can prep this whole recipe in just 15 minutes.
2. Crêpes With Tomato, Basil And Goat Cheese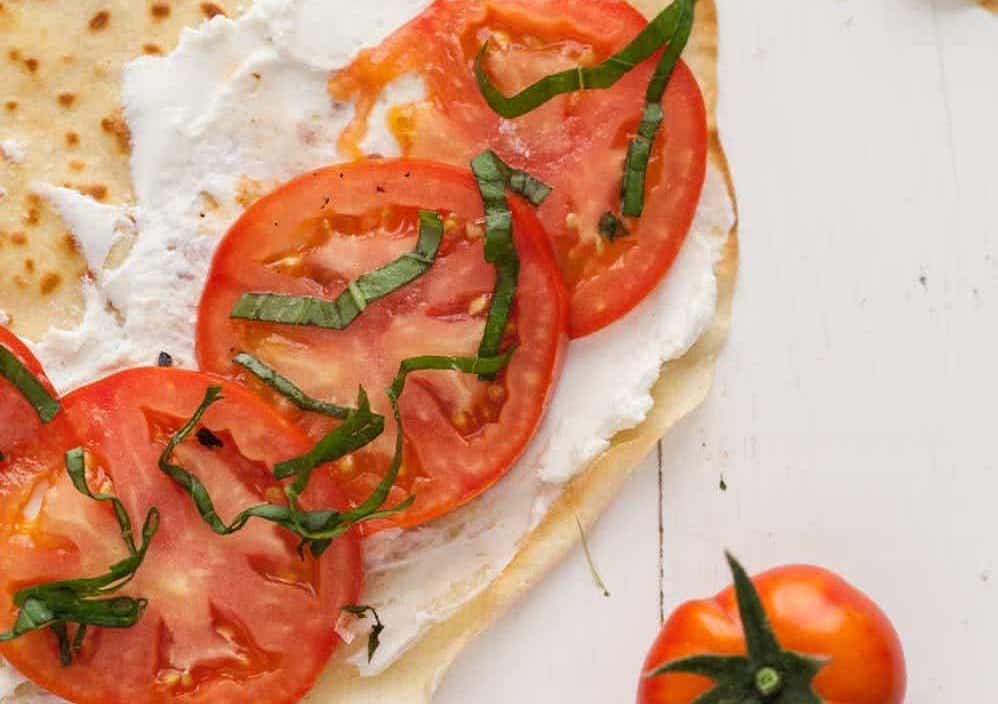 Buttery crêpes topped with a thick layer of creamy goat cheese, juicy tomatoes and basil for garnish? Sounds like the ideal morning pick-me-up to us. This recipe from Naturally Ella proves that you don't need a ton of ingredients to make a delicious savory crêpe.
3. Cabbage-Filled Crêpes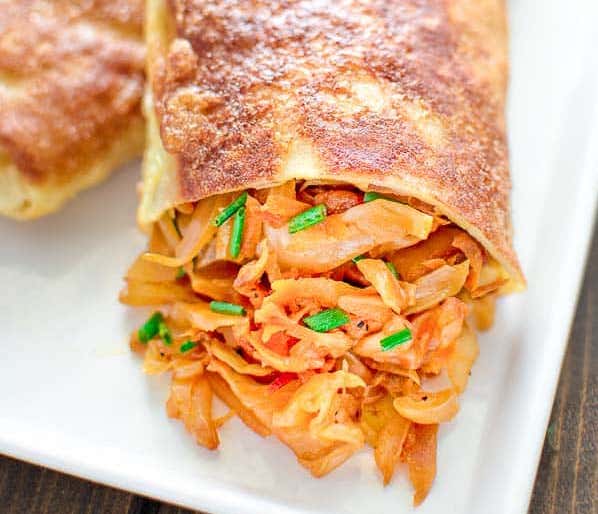 Get your daily dose of healthy veggies without skimping on flavor by filling your crêpes with sautéed cabbage, carrots and tomatoes. Sautée these veggies in a skillet along with some butter and then top them with ketchup, chives, salt and pepper to add a little more flavor. Once you have the filling ready, add it to your crêpes and then dunk your crêpes into a whisked egg mixture. Fry them in a pan with some vegetable oil until they're golden brown and slightly crispy on the outside. Serve with sour cream! Get the full recipe from Cooktoria.
4. Crêpes With Country Ham, Cheese And A Sunny-Side-Up Egg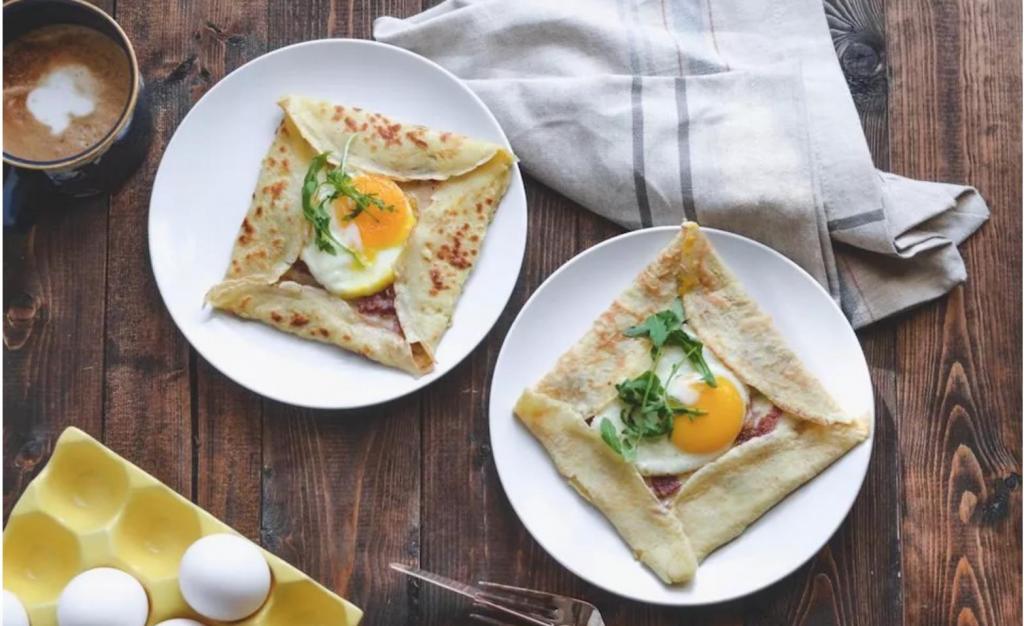 When it comes to savory crêpe fillings, there's nothing quite like the classic ham and cheese combo. This crêpes recipe from Food52 takes things a step further by adding a fried egg to the mix. To assemble these crêpes, simply place your homemade or store-bought crêpes in a frying pan over low heat, add a couple of slices of your favorite cheese (Swiss and cheddar both work well for this) and sliced country ham. Allow the cheese to melt before folding the edges of the crêpe to make a square. Then pop a fried egg in the middle. Easy peasy!
5. Crêpes With Spinach Artichoke, Brie And Honey Sauce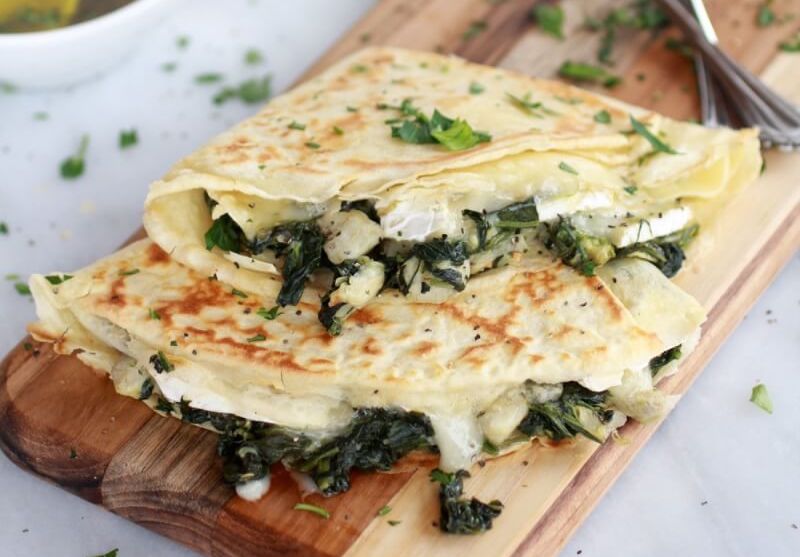 Imagine combining spinach artichoke dip with soft brie cheese and honey — that's pretty much what these pillowy crêpes taste like from Half Baked Harvest. To make the filling for this recipe, sautée spinach and artichokes in a skillet with olive oil and grated parmesan. Then prepare the honey sauce by whisking together olive oil and honey, then heating the mixture up in the microwave. To assemble your crêpe, lay it flat in a skillet over medium-low heat, add a few slices of brie, the spinach and artichoke filling and then a few more slices of brie. Fold your crêpe, remove it from the skillet and then drizzle it with the warmed honey sauce. Enjoy!
We hope you find these products useful! Swirled may be compensated when users click on the affiliate links in the story above. Products are in stock at the time of publication.
RELATED
These 4-Ingredient Omelet Recipes Will Awaken Your Taste Buds
11 Frittata Recipes That Will Make Your Brunch Totally Badass
21 Nutella Dessert Recipes That Are The Definition Of Indulgent