These 6 Airlines Have The Fanciest First Class Amenities
We love traveling as much as the next person, but we often dread the voyage that it takes to reach our final destination. Flying can be a serious pain, especially when you're squeezed into the tiny seats in economy. But when you have the kind of income that pays for penthouse apartments and private yachts, flying becomes a treat instead of torture. These six airlines offer all the luxuries that money can buy at 35,000 feet in the air.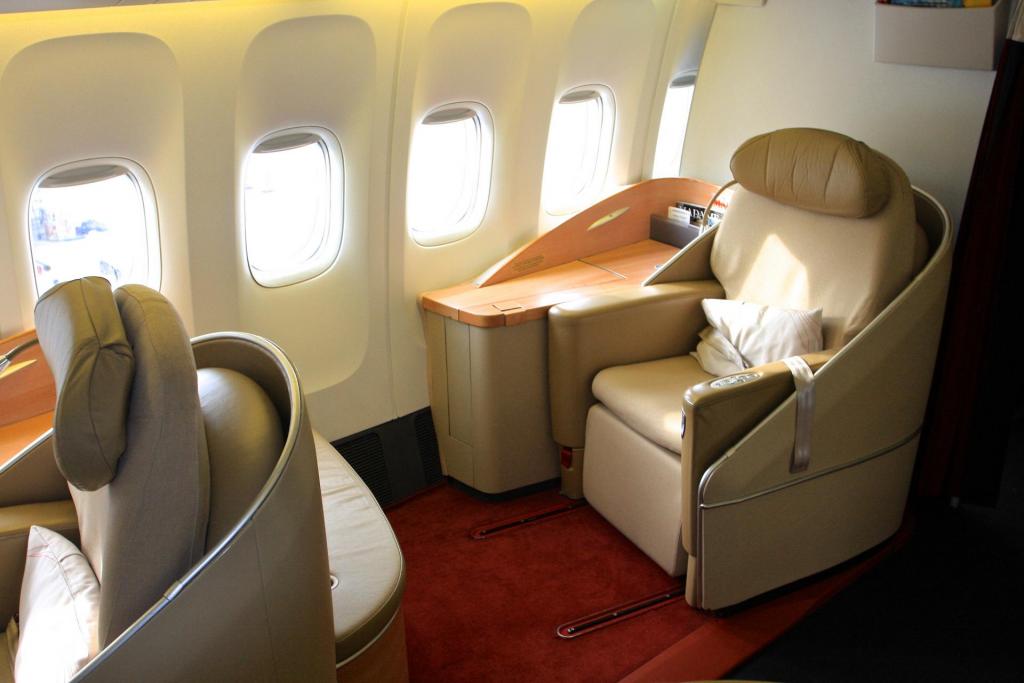 If you're flying AirFrance on a Boeing 777-300 airline, you can book a private suite in the extravagant La Première cabin for $10,000. This steep price gets you a seat that turns into a full-size bed, complete with a memory foam mattress, soft pillows and a large, fluffy duvet. You also get your own personal 24-inch flat screen TV where you can browse movies in HD, games, music and more at your will. Oh, and you can pick and choose your own three-course meal from a gourmet menu prepared by actual chefs on board.
Airbus A380 is currently the world's largest passenger airplane. Although the production of this airliner will stop in 2021 due to lack of interest by major airlines, if you're flying Emirates or Qatar Airways, you can still enjoy it for a couple of years. When flying Qatar Airways on a A380 airplane, those in business and first class can take advantage of one of the fanciest airplane bars ever created. The full-service bar has snacks and an ample seating area, and it's manned by a barista flight attendant. Of course, the first class seats also recline into flat beds and come with a duvet.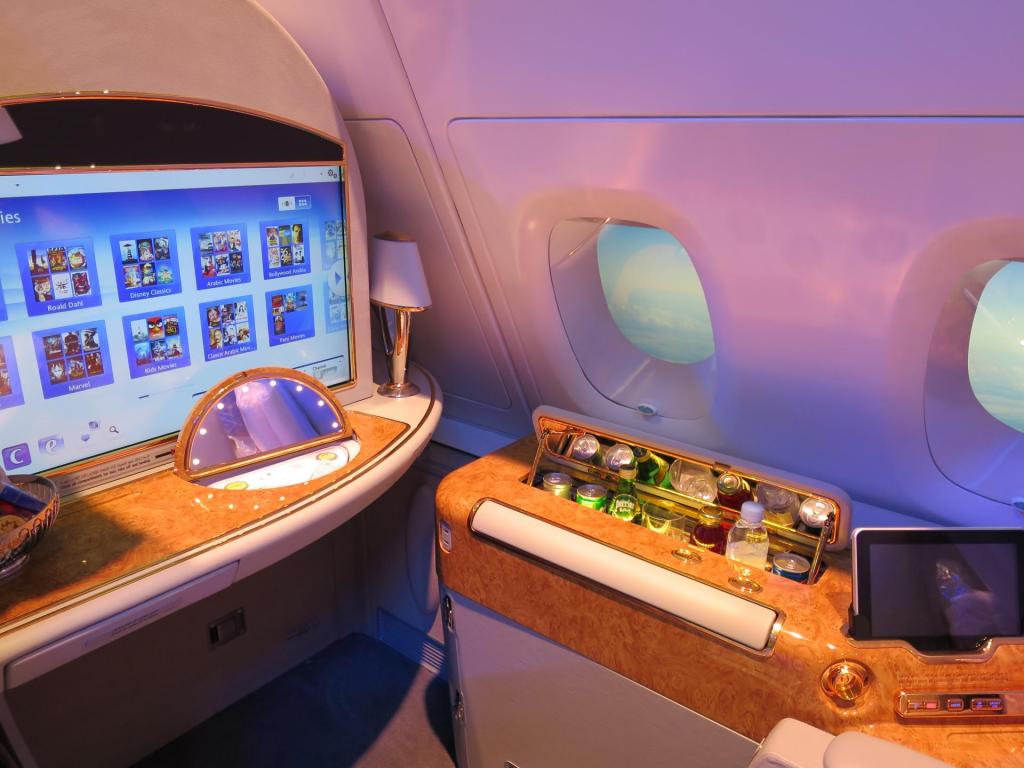 Emirates' first class cabin on its Boeing 777 airline features private pods with actual floor-to-ceiling doors that you can close for privacy. In your own little pod, you can take advantage of adjustable lighting, temperature control and a personal widescreen TV. You also get complimentary beauty products, including eye cream and a facial mist. Emirates takes the classic airplane bar one step further by giving each first-class passenger access to their own private mini bar. Bonus: This airline has an onboard shower so you can land at your destination feeling refreshed.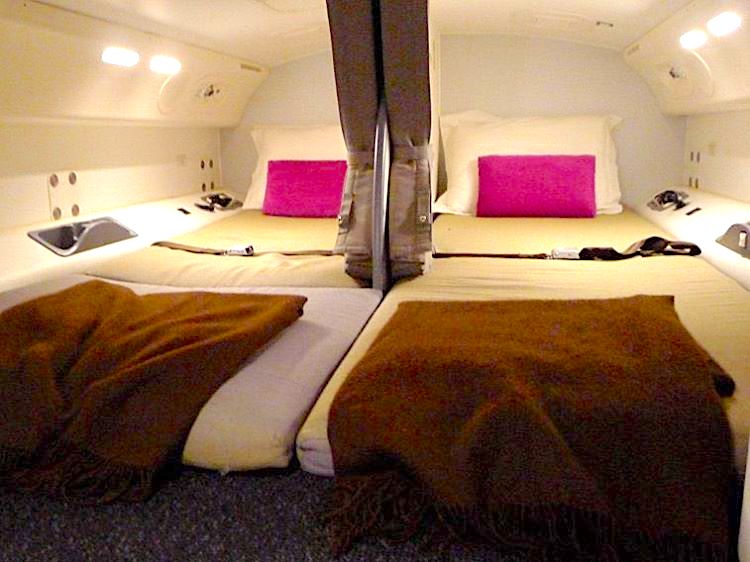 The beds in Singapore Airlines' first class cabins are probably comfier than your bed at home. They're 35 inches wide and 82 inches long on select aircrafts and come with an additional mattress topper for extra coziness. If you're willing to shell out even more cash (we're talking $18,400 roundtrip), you can get a private suite, complete with a bed and a separate plush, reclinable armchair. If you're traveling with a loved one, you can even book a private suite for two with a king-sized bed and an ensuite wardrobe. It's basically a five-star hotel in the sky.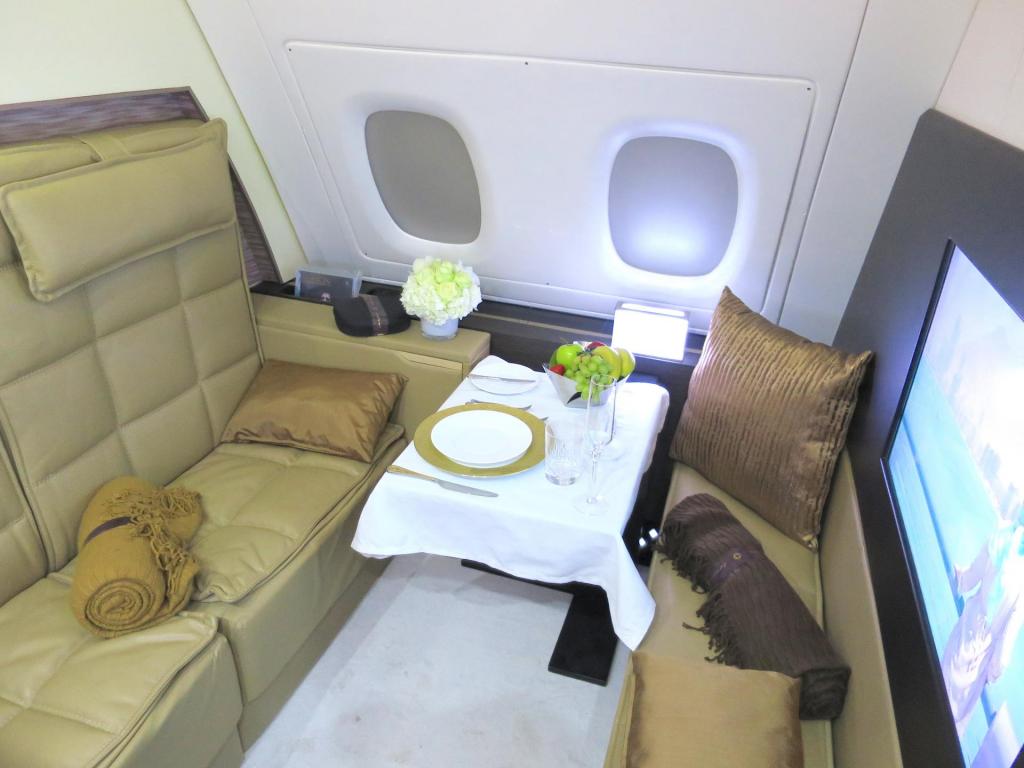 Get access to your own onboard private apartment when flying first class with Etihad Airways, the national airline of the United Arab Emirates. The private apartment comes equipped with a 6-foot-10-inch-long fully flat bed and a separate armchair. It also has a vanity unit with a lit makeup mirror, a private shower with a bathrobe and complimentary loungewear. How does all of that for the price of $30,000 for a one-way ticket sound?
If you fly first class with Lufthansa, you gain access to valet parking at the airport and you're greeted by a personal assistant at your terminal. You also get to enjoy countless luxury amenities, including a wide reclining seat and Michelin-star cuisine onboard accompanied by fine wines. Cheers!
RELATED
Want Cheaper Flights? Hack Your Layovers
Here's Which Airlines Have The Healthiest And Unhealthiest In-Flight Food
These Are The Most Climate-Friendly Airlines In The World