How The Health Benefits Of Açaí Bowls Stack Up
For years now, pretty purple açaí bowls have overwhelmed both our Instagram feeds and our taste buds — and in the best ways. But when it comes to nutrition, how do they really stack up? We know fresh fruit is packed with vitamins and antioxidants, but sugar easily makes its way onto that list as well. So here's what you need to know about açaí bowls before you dive into one with reckless abandon.
Yes, they have nutrients your body needs.
Because the bowls use plenty of blended fruits, nuts and whole-grain granola, you end up with a fiber-rich breakfast that makes your gut happy and keeps your lunchtime hunger pangs at bay for longer. The diversity of the fresh ingredient list also ensures that you're getting hefty doses of vitamins, minerals and antioxidants.
Yes, they're also total sugar bombs.
While recipes for açaí bowls range from juice shop to juice shop, most of them contain between 20 and 60 grams of sugar in a single serving. To put that into perspective, 60 grams is more than twice the amount of sugar that you're recommended to consume in a single day. Where does all of that sugar come from, you ask? Well, it depends.
Whole açaí berries are a pretty rare find in the United States — the Brazilian fruit doesn't love our climate. So most shops use powdered açaí, which combines the crushed, dried berries (that aren't sweet at all) with a fair amount of sugar, to create the sweet smoothie consistency that the base of the bowl needs. Then, you throw in sugary fruit toppings like coconut shavings and banana slices, and those grams add up pretty quickly. If you opt for a decadent topping like chocolate drizzle, forget about it. You're eating sugar on sugar on sugar masked as a superfood.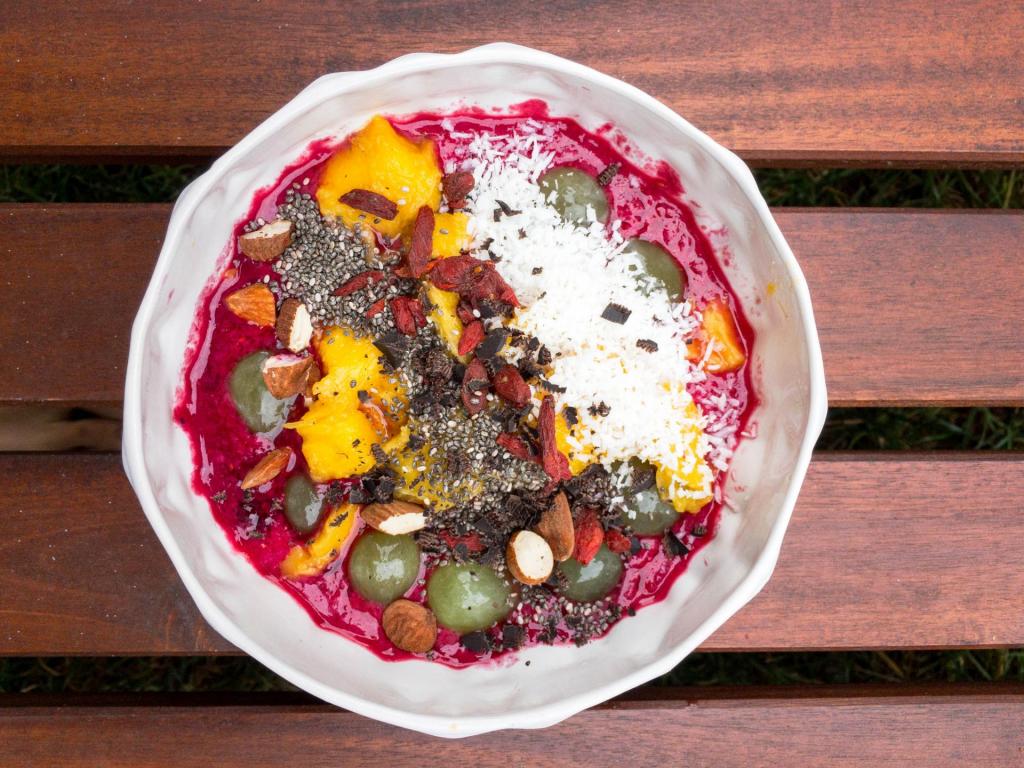 They won't make your teeth very happy.
Potential brain freeze aside, all of that sugar definitely ups your risk of developing cavities even though it's coming from fruit. Plus, a lot of the toppings like honey, chocolate and nut butter are sticky in consistency, which means that mouth full of sugar hangs around your teeth a lot longer than you probably realize, encouraging the formation of plaque and, ultimately, tooth decay. We also assume this bowl isn't the only sugary thing you eat in a day, so that constant sugar exposure for your teeth could eventually result in a not-so-fun trip to your dentist.
You can make healthier açaí bowls at home.
Now for some good news: You can definitely make your own version of açaí bowls in your kitchen and dramatically reduce that sugar overload. First, do some shopping for powdered açaí that doesn't include a ton of sugar (there are plenty of options on Amazon that'll work). Then, add a veggie like spinach to your smoothie base to up the nutrient profile without any sugar and stick to water or unsweetened nut milks when you get to blending.
Next, be mindful of the toppings you use. The more nuts and seeds, the better. And berries will always keep the sugar in check better than tropical fruits like banana, mango and pineapple. So toss some blueberries and raspberries on top without so much as a second thought and skip the others. Finally, if you want to up the wow factor with a little drizzle of something delicious, pick a nut butter without any sugars added in the ingredient list. Mmm, we're hungry just thinking about it.
Sign up for Daily Fit by Swirled, our newsletter featuring a wellness tip of the day and must-read health news from around the web! You'll be one step closer to living a healthy, balanced life.
RELATED
14 Strange Veggies You Should Be Putting In Your Smoothies
Here's How Those Green Smoothies Are Affecting Your Brain
Yes, There Is A Right Way To Freeze Bananas For Smoothies