The Weirdest Ben & Jerry's Ice Cream Flavors Ever Invented
If you're an ice cream fan, chances are that you've sampled your fair share of Ben & Jerry's ice cream flavors. You probably have a favorite, but we're willing to bet that it's not one of the ones that are currently buried in the Ben & Jerry's flavor graveyard. Yep, you heard that right — Ben & Jerry's has an actual cemetery dedicated to all of its discontinued ice cream flavors. On this list, you'll find eight of the weirdest ones ever invented. Do they deserve to be resurrected? You decide.
1. Festivus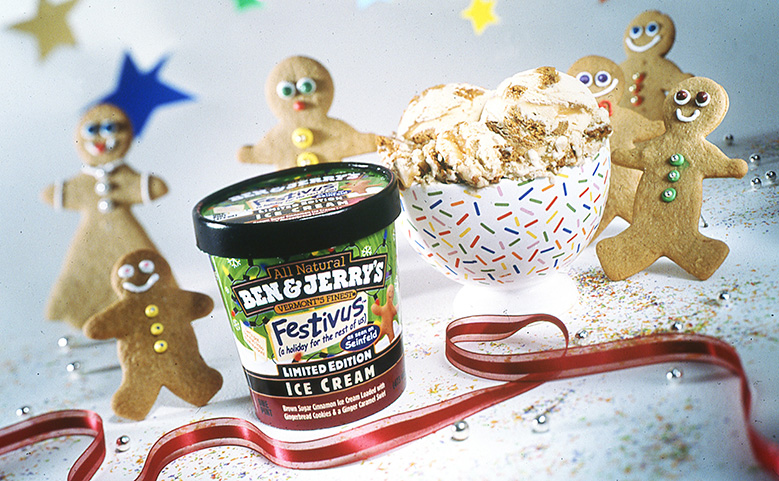 Festivus is a secular holiday that people celebrate on December 23, as an alternative to the "pressures and commercialism of the Christmas season." It's also the main focus of a popular "Seinfeld" episode and a former Ben & Jerry's ice cream flavor. This flavor debuted for the holiday season in 2000 and again in 2001. It consisted of brown sugar cinnamon ice cream, gingerbread cookie chunks and a ginger caramel swirl. Basically, a gingerbread cookie in ice cream form.
2. Peanuts! Popcorn!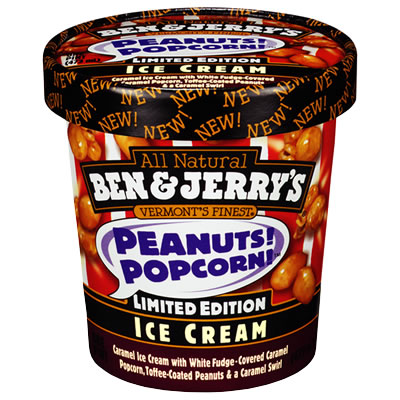 This popcorn-flavored Ben & Jerry's pint was meant to embody a night at the movie theater. Sadly, it may not have hit the mark because it was discontinued after a year on the market in 2000. The pint was made up of caramel ice cream with white fudge-covered caramel popcorn, toffee-coated peanuts and a caramel swirl. A lot going on, but we think we'd dig it.
3. Oh Pear
Ben & Jerry's ice cream is meant to be indulgent, so we're not sure how we feel about a pint that puts fruit on the center stage. This flavor lasted a year back in 1997. It consisted of fresh pear ice cream with a hint of almond and a light fudge swirl. Although it may have made health-conscious consumers feel less guilty about devouring a whole pint, the general public didn't approve. RIP.
4. Schweddy Balls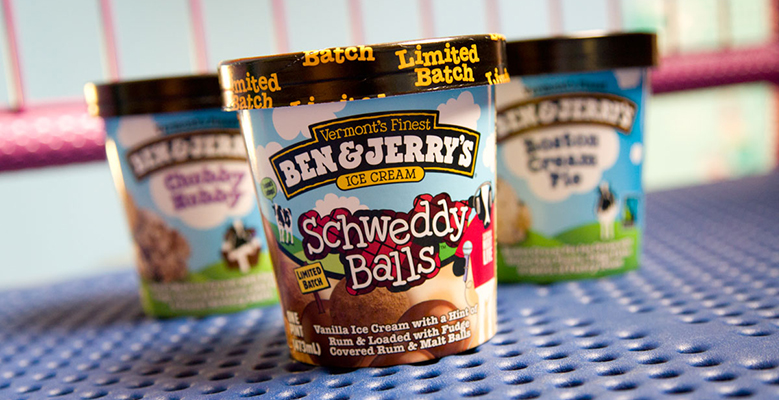 This Ben & Jerry's ice cream flavor was a homage to a 2011 "Saturday Night Live" sketch featuring Pete Schweddy that poked fun at NPR. The flavor was a combo of vanilla ice cream with a hint of rum, fudge-covered rum balls and malt balls. If you haven't seen the hilarious SNL sketch that sparked the idea for this pint, here's a clip. You're welcome.
5. Holy Cannoli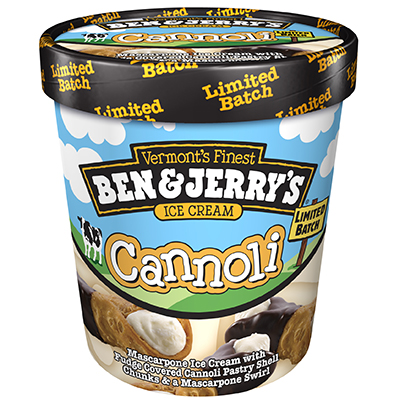 We love cannolis as much as the next person, so we're surprised that this 1997 Ben & Jerry's ice cream flavor only lasted a year. This pint was a combo of creamy ricotta and pistachio ice cream with chocolate-covered cannolis and roasted pistachios. Although it didn't last long, this flavor made a comeback as a limited-edition pint in 2012 under the pseudo name "Cannoli." This time it was made with mascarpone ice cream, fudge-covered cannoli pieces and a mascarpone swirl.
6. White Russian
We like White Russian cocktails, but in ice cream form? We're not sure how we feel about that. This old-timey Ben & Jerry's flavor combined coffee ice cream with Kahlúa coffee liqueur. Despite our skepticism, it lasted for 10 whole years from 1986 to 1996 before being discontinued.
7. Dastardly Mash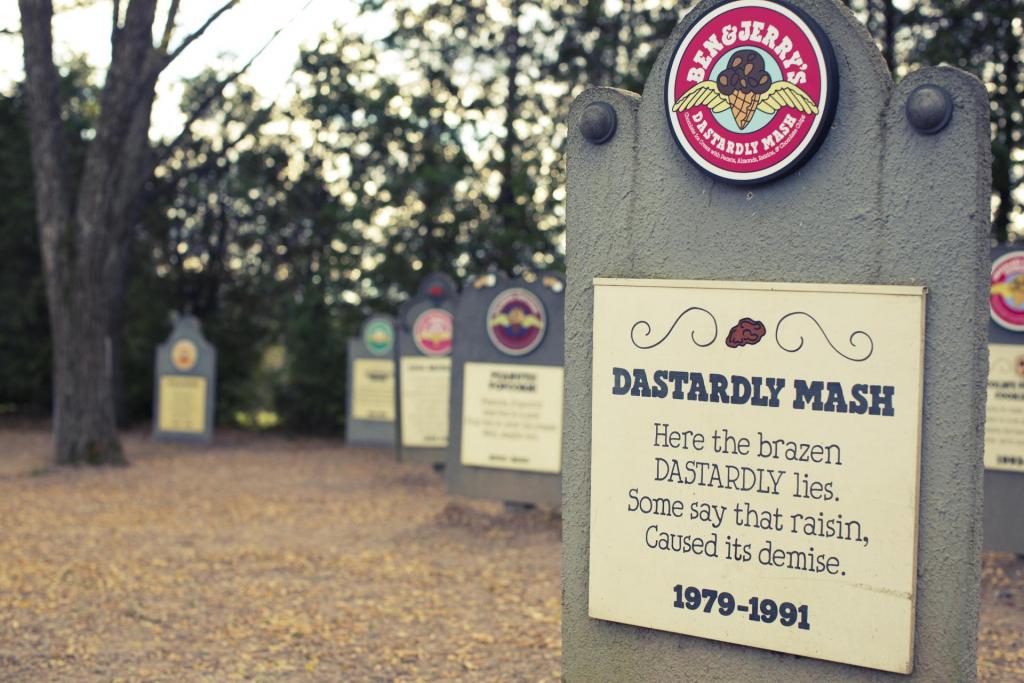 This Ben & Jerry's ice cream flavor was the only one ever invented with raisins. It was made with chocolate ice cream, pecans, almonds, raisins and chocolate chips. Despite its demise in 1991, it was on the market for a full 12 years.
8. Miz Jelena's Sweet Potato Pie
This "sweet potato pie" Ben & Jerry's ice cream flavor from the 1990s didn't actually contain any sweet potatoes. Instead, it was made with ginger ice cream and a fudge swirl. No wonder it only lasted a year.
9. Peanut Butter And Jelly
Your favorite childhood lunch was whipped into an ice cream treat by Ben & Jerry's, but didn't survive long. From 1998 to 1999 you could find this classic sandwich in cone-form, complete with chunks of strawberry jam and peanut butter crunch.
10. Tennessee Mud
If whiskey-inspired ice cream doesn't sound like a tasty treat to you, you're not alone. This Jack Daniels flavor was only around for a year before Ben & Jerry's emptied the bottle and poured out the pints.
11. Dave Matthews Band Magic Brownies
This lesser-known cousin to Cherry Garcia didn't stick around for nearly as long. The fudge brownies and raspberry swirls might not be the kind of "magic" we first think of, so maybe the name should take the blame for this short-lived flavor.
RELATED
What Your Favorite Ice Cream Flavor Says About You
YAS Ben & Jerry's Truffle-Filled Pints Are Here And We're Pumped
8 Things You Didn't Know About Halo Top