Everything You Need To Know About Tbilisi, Georgia's Ultra-Cool Capital City
Your favorite neighborhood in Brooklyn is cool, but it doesn't have the kind of jaw-dropping intrigue that spans centuries of architectural styles and political regimes. Tbilisi, Georgia is that kind of impressive, a former Soviet city that is home to medieval fortresses, beaux arts homes, Cold War era futuristic buildings and a cafe scene that'll make your most hipster friend drool with envy. And then there's the food and the nightlife. Tbilisi is the kind of city where you can touch 12 centuries of history during the day and then dance on a rooftop bar overlooking the varied cityscape at night.
Tbilisi is located at the point where Europe edges into Asia. But to understand why you would want to visit Tbilisi, you have to understand how the Georgian city became one of the crossroads of the world.
The Olden Days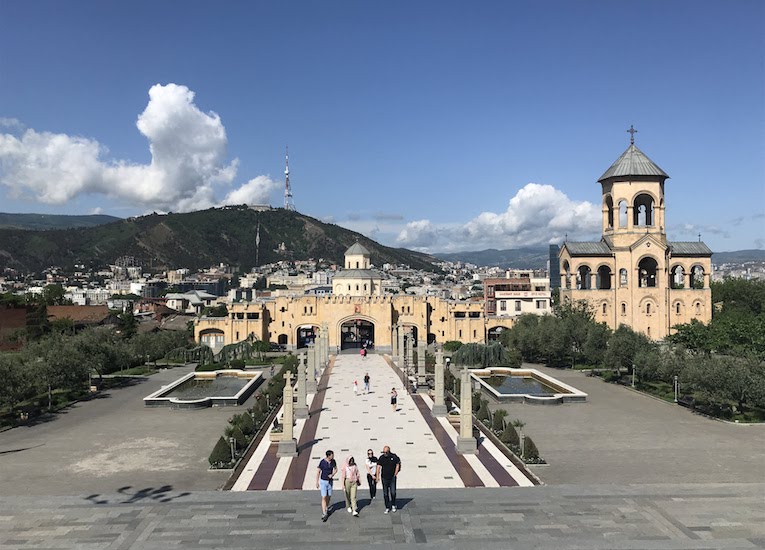 Tbilisi is an old city. We're talking thousands of years old. The city's giant Narikala Fortress (which you can not only visit, but also climb its ancient walls sans guard rails) dates back to around 360 AD. The city's many Orthodox churches vary in age but still impress no matter the date stamp.
Tbilisi was controlled by various empires (Byzantine, Mongol, Iranian and Russian), and it was during this time that it became a mainstay on the Silk Road trading route. That meant Tbilisi's population grew and trade flourished, all while the city was built and rebuilt with each conquest.
The Old Town is a maze-like tour through centuries-old narrow streets, with hanging plants and wrought-iron window treatments. Look for the Rezo Gabriadze Puppet Theater clockface, and if you visit the spot around noon or 7 p.m., you can catch a puppet show. If you're there during other times of the day, you can often see street musicians showing off for the tourists.
Soviet Times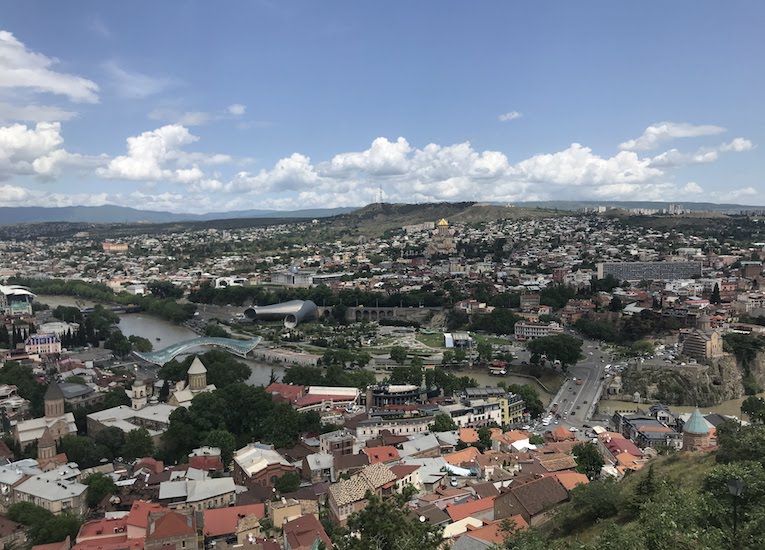 Unless you skipped every history class in high school, you know that the Russian Empire ended in revolt. Well, barely three years passed from when Georgia declared its independence from Russia before the Soviet army invaded. So from 1921 to 1991, Tbilisi was a Soviet City, and you can see the evidence to this day.
Look for the geometric block Bank of Georgia Headquarters and the sometimes precarious Saburtalo Housing District. You can build your own itinerary to see Tbilisi's Soviet architecture or book a tour with Brutal Tours to see some of the less-visited-by-outsiders spots.
Now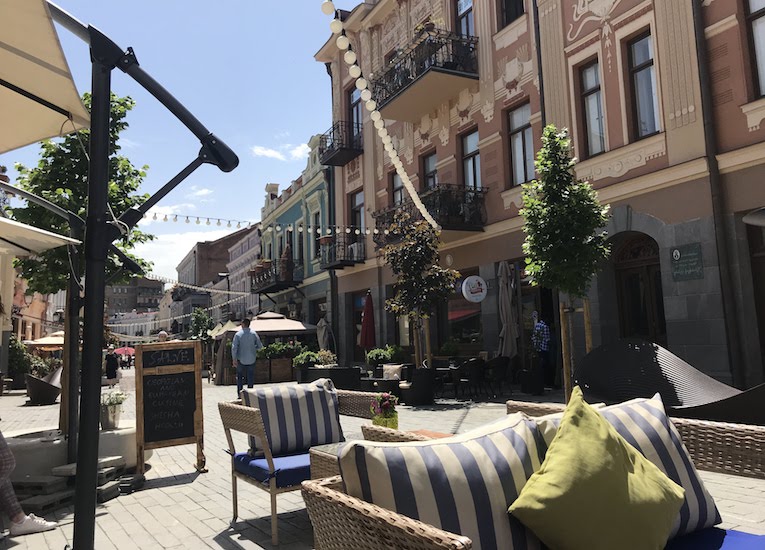 Between newly remodeled Agmashenebeli Avenue and shopping center Rustaveli Avenue, you'll get a good slice of cosmopolitan life in Tbilisi now. But it if you're looking for the hipster stuff, you want to head a few streets behind Agmashenebeli to Fabrika, a community space, hostel, restaurant complex and all-around great place to start an evening before heading out on the town to experience Tbilisi's nightlife.
We're talking techno, we're talking rooftop bars, we're talking divey clubs and we're talking infamous rave sites like Bassiani and Mitkvarze. And in the morning, there's no better hangover food in the world than khachapuri — Georgia's classic egg, bread and cheese creation.
RELATED
Looking For The Best Eastern European Food? It's Time To Head To Georgia
You Can Hike Through Medieval Towers And The Caucasus Mountains In Svaneti, Georgia
The Country Of Georgia Is A Hidden Wine Paradise In The Caucasus