Pumpkin Snickerdoodles Are The Only Way To Do Fall This Year
It's prime pumpkin season, which means at least 50 percent of our diet has been comprised of the ghoulish gourd. We're not mad about it, and you shouldn't be either, especially after you check out our pumpkin snickerdoodles recipe. Trust us on this one: Making the classic cinnamon-sugar vibe with a pumpkin twist is exactly how you should be spending your fall days. You won't regret a single bite — or batch.
Pumpkin Snickerdoodles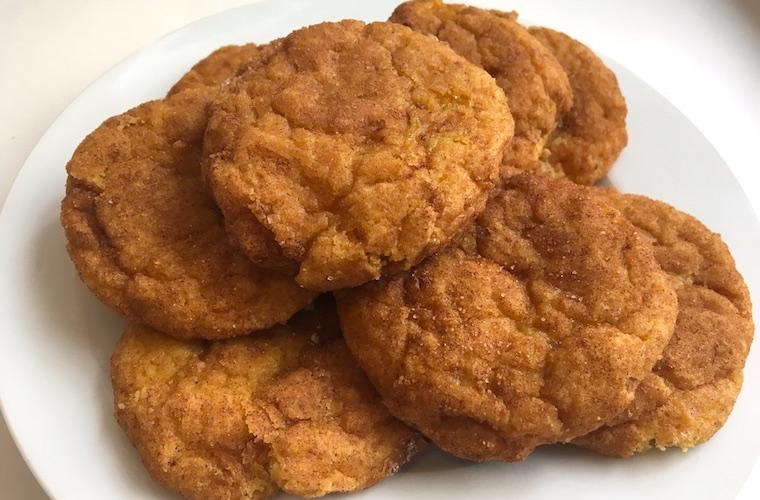 Ingredients
1/2 cup (or 1 stick) unsalted butter, at room temperature
1 1/2 cup plus 2 Tbsp. white sugar, divided
2 eggs
2 tsp. vanilla extract
1 cup canned pumpkin
2 3/4 cup flour
2 tsp. cream of tartar
1 tsp. baking soda
1/4 tsp. salt
1 Tbsp. plus 1 tsp. cinnamon, divided
1 tsp. nutmeg
Instructions
Preheat your oven to 350 degrees and prepare two baking sheets with parchment paper. In a large bowl, mix butter and 1 1/2 cup sugar together until fluffy. Add eggs, vanilla and pumpkin and mix until incorporated. Then, add the flour, cream of tartar, baking soda, salt, 1 tsp. cinnamon and nutmeg and mix until fully incorporated.
Roll the dough into balls and roll into a cinnamon sugar mix (2 Tbsp. white sugar, 1 Tbsp. cinnamon), then add to the baking sheet. Bake the cookies for eight to 10 minutes, or until just golden.
RELATED LINKS
7 Kinds Of Pumpkin Pie That'll Shake Up Your Baking Routine
These 4-Spice Pumpkin Cupcakes With Cream Cheese Frosting Are The Epitome Of Fall
You'll Want To Drizzle This Pumpkin Seed Oil Pesto On Everything You Eat This Fall
Sign up for our newsletter.
Say hello to the best part of your day.