Friday Fluff 06/28/2019: We Have Adorable Dog Pictures!
Get adorable pups in your inbox — sign up for Friday Fluff!
Say hello to the cutest dogs of the week!
Fiorenzo, French Bulldog, 5 Years Old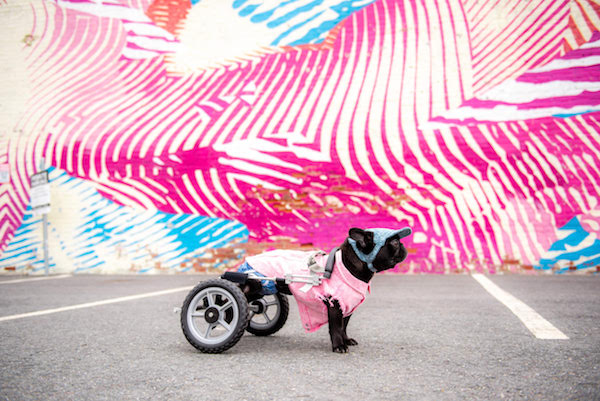 Fun Fact: Although Fio is paralyzed, he's the most active pup around. This fireball could play fetch for hours!
Did You Know? The first dog wheelchair was invented by Dr. Lincoln Parkes, a World War II veteran who worked as a veterinarian in his 50s and 60s. Parkes, a lover of animals, was adamant about the fact that no animal should be put to sleep just because they can't walk anymore. Thanks to Dr. Parkes, many paralyzed animals — including pigs, rabbits, cats, dogs and more — can live an almost-normal life with the help of wheels. [Southern Living]
Toffee, Pit Bull Terrier Mix, 1 Year Old (Up For Adoption)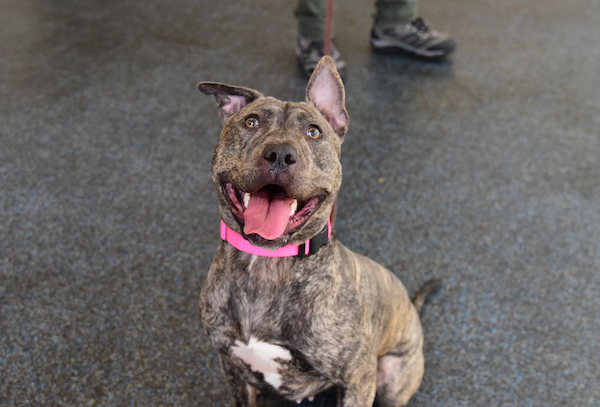 Fun Fact: If Toffee were a human, she'd be a high jump Olympic champion. No matter how high you throw the ball when you're playing fetch with Toffee, this agile lady will catch it. Toffee is currently up for adoption and is seeking her furever home with a loving human. Find out if Toffee is the right pup for you by learning more here or by contacting the ASPCA!
Did You Know? If you're looking to enter your dog into an agility contest, consider their breed first. Some pups are naturally more agile than others. Breeds most likely to do well in agility competitions include the border collie, the Jack Russell terrier, the standard poodle, the German shepherd and (surprisingly) the Pembroke Welsh corgi. [Petful]
Ozzie, Cavapoo, 1 Year Old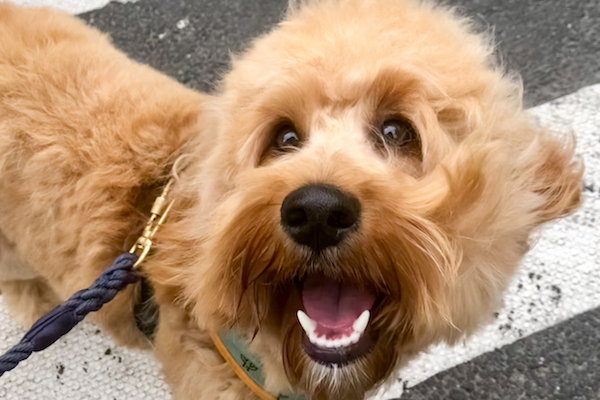 Fun Fact: If you spotted Ozzie frolicking in Central Park or hailing a taxi, you'd probably think he was a native New Yorker. But Ozzie was actually born in Australia, where he developed a taste for kangaroo jerky and a rugged personal style not unlike a Hemsworth brother. Ozzie came to New York City to chase his dreams of fame, but he still barks with an accent.
Did You Know? Speaking of accents, have you ever wondered if dogs can understand multiple languages? According to experts, pooches can certainly learn to understand more than one language, but that doesn't mean they actually know the difference between English, Spanish or German. Instead, they rely on the sounds you make when you're talking, your inflection, facial expressions and body language and what is expected of them to understand what you're trying to say — no matter what language you're speaking in. [BarkPost]
"Our perfect companions never have fewer than four feet."
— Colette
Editors' Picks: Our Favorite Buys Of The Week:
TruDog: TruDog is a small family-owned pet food company with products that have the highest quality ingredients for the health of your dog including food, treats, supplements and grooming supplies. TruDog also partners with GreaterGood whose goal is to protect pets, people and the planet.
Lull Mattress: Lull is a direct-to-consumer mattress company— no middleman, no markups, no extra cost to you for premium sleep. Don't lose any more sleep on your old uncomfortable mattress, order the comfort and support you deserve. Every LullMattress comes with free shipping and a 100-night trial guarantee! Shop Lull now.
Enter To Win A Trip To NYC: Experience the best of what the "City That Never Sleeps" has to offer! Your prize package includes a two-night stay in a king room with city views at the swanky and sophisticated Arlo Hotel SoHo, plus breakfast for two at Harold's. To make your trip even more memorable, you'll receive a Delsey Paris luggage set (valued at $440), $200 towards dining courtesy of Full-Time Travel, $200 towards shopping at Hinted, $200 towards shopping at Bubble Goods, Inc., $150 towards travel expenses from Peachy and a $200 gift card towards the purchase of Broadway tickets from Swirled. Enter today!
Swirled: Get the intel you need to own your life and love it! Sign up for Swirled today and get a daily dose of lifehacks plus food, travel, wellness and career inspo.
Swirled may be compensated when users click on the affiliate links in this newsletter. Products are in stock at the time of publication.
Did you receive this newsletter from a friend? Sign up for Friday Fluff here to get cute dogs in your inbox every week.
P.S. Want your dog to appear in Friday Fluff? Send a picture of him or her (at least 600px by 400px) along with name, breed, age when the photo was taken and a fun fact about your furry friend to [email protected]. We'll do our best to feature your dog in our email and social media feeds.