Friday Fluff 06/07/2019: The Cutest Dogs Of The Week
Get adorable pups in your inbox — sign up for Friday Fluff!
Say hello to the cutest dogs of the week!
Nocci, Mini Goldendoodle, 2 Years Old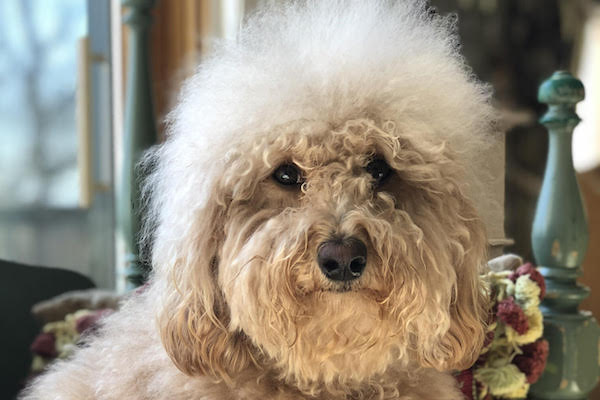 Fun Fact: Nocci is quite bossy. He communicates with his pawrents by nudging them in the butt, shaking his head in the direction he wants you to move in and stomping his paws. But he's a Goldendoodle, so you know he's still a sweetheart!
Did You Know? Most pawrents know that some dog breeds are less eager to please you than others. Some of the most stubborn dog breeds include Siberian Huskies, Beagles, Shar-pei and Dalmatians. If you're thinking of adopting a puppy that's on this list, know that your new pup might test the limits of your patience while you're trying to train them. Pro tip: hiring a professional trainer is always an option. [Dogtime]
Moana, Chihuahua/Pug Mix, 5 Years Old (Up for Adoption)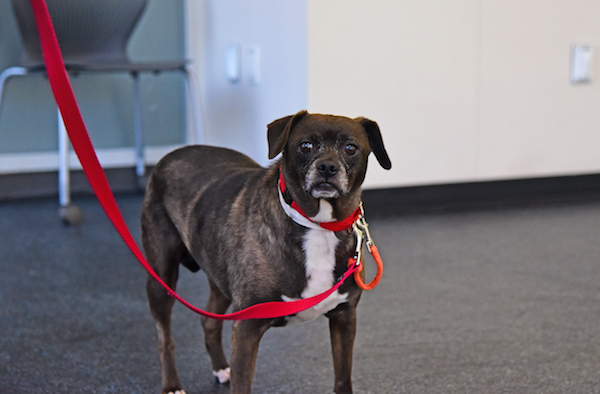 Fun Fact: To say that Moana is a big fan of belly rubs is an understatement. If she's comfortable around you, she'll flop on her back with her legs in the air awaiting those belly scratches. When you start scratching her belly, Moana will give you a goofy grin that'll make you fall in love with her even more. This little lady is seeking a patient adopter who lives in a quiet area and has a comfy couch to cuddle on. Find out if Moana is the right pup for you by learning more here or contacting the ASPCA!
Did You Know? The way you pet a dog can make you their favorite person — or the human they're always trying to avoid. Never pet a dog who doesn't initiate contact. Invite them to make the first move by squatting down so you are closer to their level. With a reserved or fearful dog, turn your body to the side to make yourself appear less threatening. [Vetstreet]
Leila Ruffles, Shih Tzu, 8 Years Old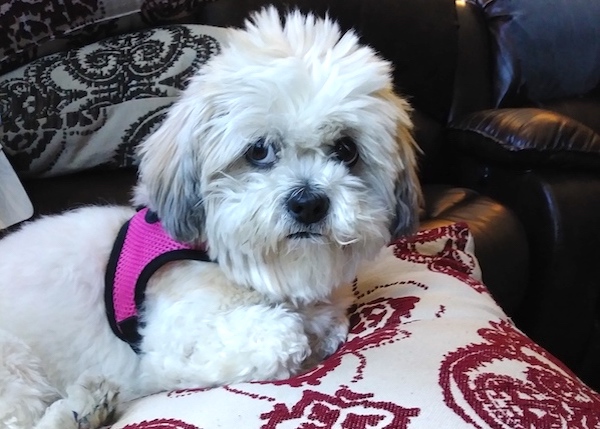 Fun Fact: This little pup is a total diva. She has a favorite chair in the house and once she sits on it, there's no getting her off of it. She also has an extensive wardrobe of different colored collars.
Did you know? Some trainers believe that allowing dogs onto the furniture will result in behaviors of dominance and/or aggression. But allowing your pup to snooze on the couch is usually not a problem. Just make sure that they're not growling at you when you go sit down next to them and that you remove them from the furniture if they don't respond to your "Get off!" command. [The Spruce Pets]
Taking care of a pup is a lot of work, so make sure you're taking care of yourself as well! Getting good sleep is a big part of that. If you struggle to fall asleep, snack on walnuts and kiwi before bedtime — they're full of serotonin, which helps regulate those Zs. Want more wellness tips and health intel like this every week? Sign up for our Daily Fit by Swirled newsletter!
"That moment when you need to adjust your sleeping position, but feel bad because your pet is asleep on you."
— Unknown
Editors' Picks: Our Favorite Buys Of The Week:
Daily Goodie Box: Have you ever wanted to try a bunch of products and give your input on how you like them? With Daily Goodie Box, now you can! DailyGoodie Box is free to join and it's so easy to sign up! All you have to do is sign up and become a member, receive your Goodie Box and give your thoughts about products in your box. Shipping is free and no credit card is required, ever.
Easy Canvas: It's almost Father's Day, show dad some love and create a personalized gallery wall. The museum-quality canvases are hand-stretched in Austin, Texas and include stunning wrap, border and frame options. The Big Sale is going on now with up to 93% off custom canvas prints.
PetJoy: Get PetJoy's HIP+JOINT Soft Chew Jars. These supplements contain the highest quality canine specific formulations to give the maximum health benefits to your furry friends. It's their mission to keep your pet healthy.
Swirled may be compensated when users click on the affiliate links in this newsletter. Products are in stock at the time of publication.
Did you receive this newsletter from a friend? Sign up for Friday Fluff here to get cute dogs in your inbox every week.
P.S. Want your dog to appear in Friday Fluff? Send a picture of him or her (at least 600px by 400px) along with name, breed, age when the photo was taken and a fun fact about your furry friend to [email protected]. We'll do our best to feature your dog in our email and social media feeds.