Here's Your Ultimate St. Patrick's Day Dinner Party Guide
For everyone who thinks St. Patrick's Day is just an excuse to drink excessive amounts of Shamrock Shakes, cheap beer and parade around in everything green, you're not wrong, but don't forget the real reason we celebrate every year on March 17. People in Ireland and of Irish descent know the real reason for all of these festivities — it's a day to observe St. Patrick, the patron saint of Ireland by wearing green, which symbolizes springtime and Irish culture. 
Until relatively recently, St. Patrick's Day was more of a religious day, but now it's marked by parades and parties. The very first St. Paddy's day parade actually took place in Manhattan in 1762 when Irish immigrants were making their way into the US during the mid-19th century. Since Irish culture has become such a huge part of the fabric of America, it's important to know the best ways to celebrate. Here's how to plan the ultimate St. Patrick's Day dinner party.
Tunes
The Irish (or Gaelic) word for a social event with Scottish or Irish folk music, where there's singing, traditional dancing and storytelling is called ceilidh. In the modern world, this could mean a house party with lots of eating and drinking or even a large concert. A lot of the traditional music expressed sorrow and longing for their homeland during the Great Famine and extreme migration periods, but today traditional Irish music is more geared towards social celebrations. A few popular songs that'll get your dinner party in the St. Paddy's Day spirit are "The Irish Rover" by the Celtic punk band The Pogues and the famous Irish folk band The Dubliners; "A Nation Once Again" by Tomas Osborne Davis, "The Boys of the Old Brigade," "Molly Malone" by The Dubliners and "Danny Boy."
Decor
This is the easy part. The Irish flag is green, orange and white. The green part represents the older Gaelic traditions, the orange signifies the supporters of William of Orange and the white stands for the peaceful truce between the two. Let these colors inspire your table settings. Maybe get some tasteful green-accented cloth napkins and vases for the place settings and add some gold and orange touches if you want to get fancy. You could always decorate the table with a bunch of herbs for some extra green vibes.
Food
Ireland has long been associated with potatoes as its core crop. The Great Famine (better known outside of Ireland as the Potato Famine) was a time of mass starvation, disease and emigration to other countries. About two-fifths of Ireland's population relied on potatoes because of how cheap they were and then potato blight ravaged the crops and around one million people emigrated (leaving one's own country to settle permanently in another) from Ireland and another million died. This forever changed the landscape of the island.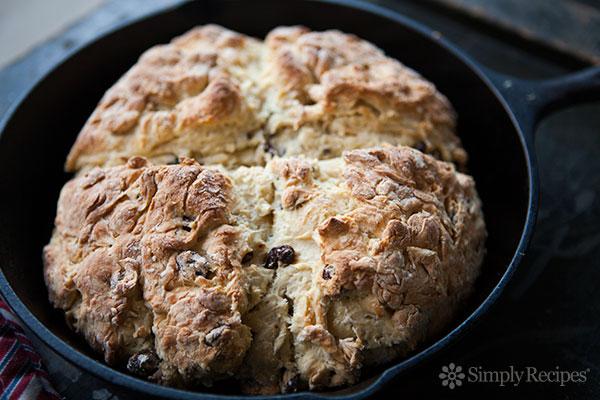 Flash forward to modern day and Irish cuisine still remains very strongly tied to potatoes. A classic Irish-American dish that's always a hit is Colcannon — this hearty side dish is usually made by whipping together mashed potatoes and sauteed cabbage with butter, garlic, leeks and a few other seasonings, but you can doctor it up any way you want. Another classic dish is corned beef (a salt-cured and seasoned beef brisket) and cabbage with vegetables. If you're looking for more of a meaty dish, there's always Irish stew and Shepard's Pie. If you're a Guinness lover, you could make a Guinness beef stew and for dessert, Guinness ice cream floats or chocolate stout cupcakes. Let's not forget about Irish soda bread, typically made with baking soda as a leavening agent instead of the traditional yeast and buttermilk. Some people add caraway seeds or raisins for some extra texture. 
Drinks
If you're out bar hopping for St. Paddy's Day weekend and you're looking for a light beer to carry you through the day, Pilsner is the ideal light beer for the job. Guinness, of course, is just about as Irish as you can get. Then, there are all of the Irish whiskeys to experiment with. Equally satisfying in the morning or night, Irish coffee is a must — this usually involves freshly brewed coffee, Irish whiskey, brown sugar and heavy whipped cream. You can also chill it and make a refreshing iced coffee.
Whether you take all of these suggestions into consideration or just a few, your St. Patrick's Day dinner party is guaranteed to be a hit.