You Can Fly Roundtrip To New Zealand For As Low As $708
If you've ever considered a vacation to New Zealand, you probably stopped somewhere in the airfare-planning process. It's no surprise that flights to that part of the world are usually extremely pricey compared to other popular destinations in Europe. But guess what? We hit the jackpot of flight deals. You can fly roundtrip from the U.S. to Auckland, New Zealand for as little as $708. That's no joke.
Prices on flights leaving major U.S. cities like New York, Los Angeles, Chicago, San Francisco and Seattle through carriers like Hawaiian Air, JetBlue and Alaska Air are ridiculously low in the early months of 2018. We're talking prices slashed below $1,000 in all of these departing locations. To us, that's a huge deal.
Here's how to get the deal:
Head to Google Flights and enter your departing city, as well as your destination, Auckland. Look at the calendar feature for the lowest prices, which are highlighted in green.
We found a flight leaving San Francisco on February 22 and returning on February 29 for $708: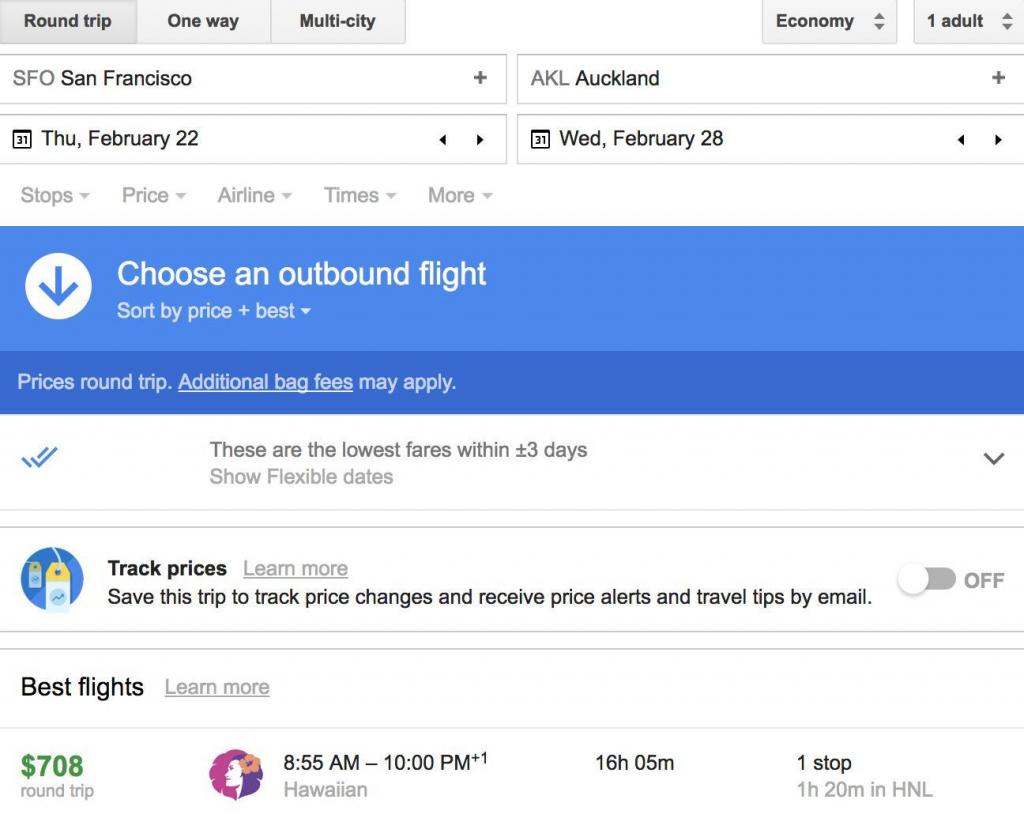 We also found a flight leaving Los Angeles on February 5 and returning on February 11 for $731 and a flight leaving Seattle on February 8 and returning on February 14 for $784.
For you non-west coasters, we found flights under $1,000 for you, too. There's a flight leaving Chicago on January 29 and returning on February 2 for $921 and a flight leaving New York City on January 22 and returning on January 28 for $999.
Your New Zealand adventure awaits you, and you don't even need to shell out your entire savings to enjoy it. Cheers to cheap flight deals and priceless experiences. We'll see you in Auckland.
Sign up for our newsletter.
Say hello to the best part of your day.