5 Productivity Hacks You Probably Haven't Seen Before
The productivity craze shows no sign of slowing down, with people looking to maximize every second of their increasingly limited time.
Emily Price is the author of the book "Productivity Hacks: 500+ Easy Ways to Accomplish More at Work – That Actually Work!" A freelance journalist, Price says she picked up the hacks from working in "a lot of difference offices," interviewing hundreds of CEOs for business magazines, and just picking up suggestions along the way.
"People want to have a good work-life balance," Price told Ladders of the sustained interest in productivity. "And a huge part of that is being productive — in both your work and your life. When you cut 20 minutes off what you have to do for work each day, then maybe that's 20 more minutes you can have to spend with your kids.
"Self-care is a trend, too, so it's also about being able to be good at your job, but to also be good at the other things you're interested in as well."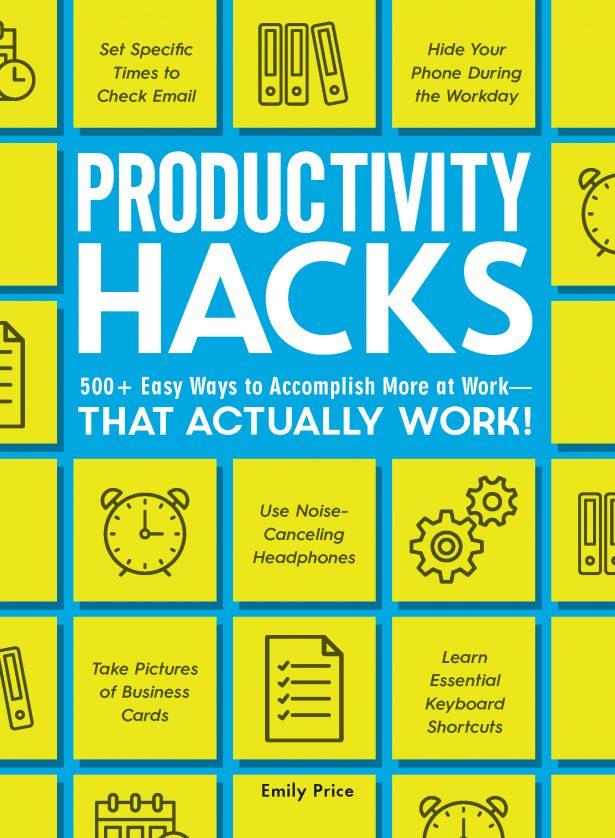 Here are five of our favorite tips excerpted from the book, which came out December 18:
#7. Create a visual "chain" of consistency
Back when Jerry Seinfeld was a touring comic, he used a calendar system called "Don't break the chain." He marked each day on a calendar that he worked toward a goal. As you mark the days, you will not only track your progress but also appreciate the daily work you have put into your aspirations. After a while you'll have a long "chain" of days where you've completed a specific task or taken another step toward your goals. The aim here is to not "break the chain" by missing days along the way.
#21. Set 90-day goals rather than yearly ones
Everything can change in a year. While many of us spend the beginning of the year creating goals for what we hope to accomplish by December 31, it's better to set goals you'd like to finish by March 31 instead. Come April, you can evaluate how close you are to reaching those goals (if you haven't reached them already) and revamp them — or create new goals — for continued success in the following three months. Even if you haven't reached your original goal, you're now on track to reach it in the next time frame.
#66. Take a personal day (take a vacation day to knock things off your personal to-do list)
If your personal to-do list starts to get out of hand, consider taking a day off from work to tackle it. The whole point of taking a vacation is cut down on stress. If your personal stress is starting to become too much to handle, then taking a vacation day to knock things off your to-do list can actually help you de-stress better than taking a day off to relax on the beach.
#98. Use your calendar for everything, not just specific appointments or meetings
If you use your calendar just for scheduling meetings, you can quickly run into a situation where you don't have time to accomplish other tasks. Use your calendar to block off time for projects, just as if you were scheduling a meeting, so you have a clearer grasp of when you have time for new tasks or meetings.
#347. Have your meetings mid-week and in the afternoon
Have your meetings in the afternoon. You may think that setting a morning meeting means everyone will arrive ready to hit the ground running — but actually, you may just end up with a meeting full of people who got caught up with work the day before and consequently didn't have time to prepare. An afternoon meeting — specifically in the middle of the week — will result in a more engaged and better-prepared group than if you had the same meeting at 9 a.m. on a Monday when people are still recovering from the weekend and catching up on work they didn't finish the week before.
Excerpted from Productivity Hacks: 500+ Easy Ways to Accomplish More at Work – That Actually Work! By Emily Price Copyright © 2018 published by Adams Media, a division of Simon and Schuster. Used by permission of the publisher. All rights reserved.
This article originally appeared on Ladders written by Sheila McClear.
RELATED
7 To-Do List Hacks That'll Help You Be More Productive Every Day
This One Rule Could Make Your Meetings Way More Productive
Tailoring Your Daily Schedule To Your Job Description Could Make You More Productive