Grilled Pizza with Peaches, Goat Cheese and Arugula
One of my favorite things to make on the grill may surprise you. It's pizza and it's delicious. There's something about the smokiness and the charred crust that is just perfection. The best part about this recipe is that it's really more of a method — perfect if you're the creative cook type. Once you get the basics down, you can make it your own. Top it with anything you like, or even cook it on a grill pan or tabletop griddle if you don't have access to an outdoor grill. Whichever way you choose to make it — just make sure to enjoy it!
Recipe:
1 ball of pizza dough
Extra virgin olive oil
3 cups of arugula, washed and dried
3 yellow peaches, halved lengthwise and pit removed
4-ounce log of cranberry goat cheese, crumbled
Salt
Black Pepper
Heat grill to 450 degrees. While the grill is heating up, the dough should be resting at room temperature so it's easy to handle.
Roll or stretch the dough out to a thin disk, approximately 12 inches in diameter.
Brush with olive oil and place directly onto the grill. Note: The oil may make the flames flare up, but it will also keep the dough from sticking.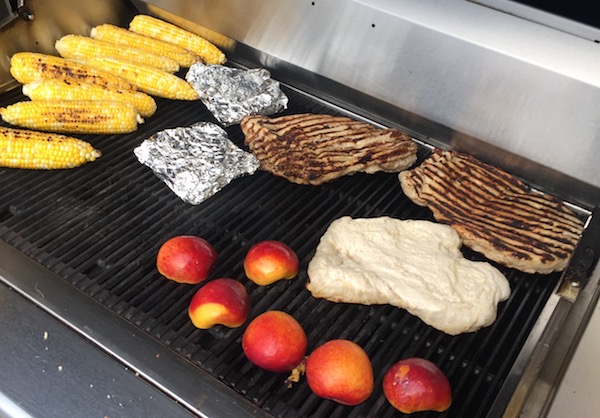 Grill the dough for 7-8 minutes on one side then using tongs or a large spatula, flip the dough and cook an additional 7-8 minutes, until the dough is cooked through.
After you flip the dough, brush the cut side of the peaches with olive oil and grill for 5 minutes or until they start to soften, flipping once.
Remove the peaches from the grill and set aside.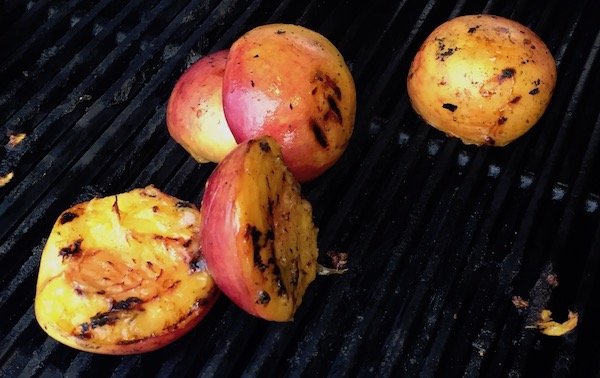 When the dough is cooked through, remove from the heat and place on a large cutting board or plate.
Slice each peach half into chunks and toss together with the arugula, cheese, a drizzle of additional olive oil and salt and pepper to taste.
Arrange the mixture on top of the dough so that the peaches are evenly distributed.
Cut into pieces and enjoy!
Notes:
Depending on the thickness of the dough and the heat of the grill, cooking time may vary.
If you don't have a grill, don't sweat it! Use an indoor grill, panini press or stovetop grill pan instead.
Trader Joe's makes a great dough, or you can ask your local shop if you can purchase a ball of theirs.
Variation Ideas:
Top with baby spinach, grilled pears, blue cheese and walnuts.
Swap in nectarines for the peaches.
Swap in an herbed or blueberry goat cheese or feta for a twist.
RELATED