6 Cozy Whole30-Approved Weeknight Dinner Recipes
Following the Whole30 diet isn't easy. You can't eat or drink grains, legumes, dairy, alcohol or any added sugar. Although this diet usually only lasts for 30 days, it's pretty much impossible to eat out when following it, so you'll likely end up cooking many meals at home. Cooking weeknight meals can be stressful, especially if you have limited time and you're following a strict diet. Luckily, these six Whole30-approved weeknight dinner recipes are relatively quick and easy, and hearty enough to fill you up after a long day at work. Enjoy!
1. Sweet Potato Chili With Turkey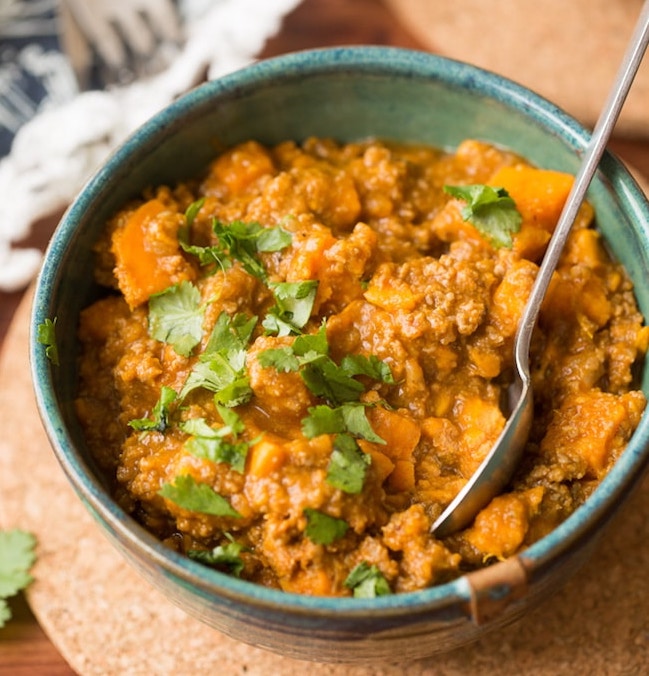 When it's cold outside, there's nothing quite as comforting as eating a warm bowl of chili. Sadly, most chili recipes use beans as one of the main ingredients and since beans are part of the legume family, they're not allowed on the Whole30 diet. But this Sweet Potato Chili With Turkey recipe from A Saucy Kitchen solves all of your problems because it nixes kidney beans and uses sweet potato chunks instead. It's gluten-free, Whole30-approved and will only take you 45 minutes to make.
2. One-Pan Roasted Harissa Salmon With Veggies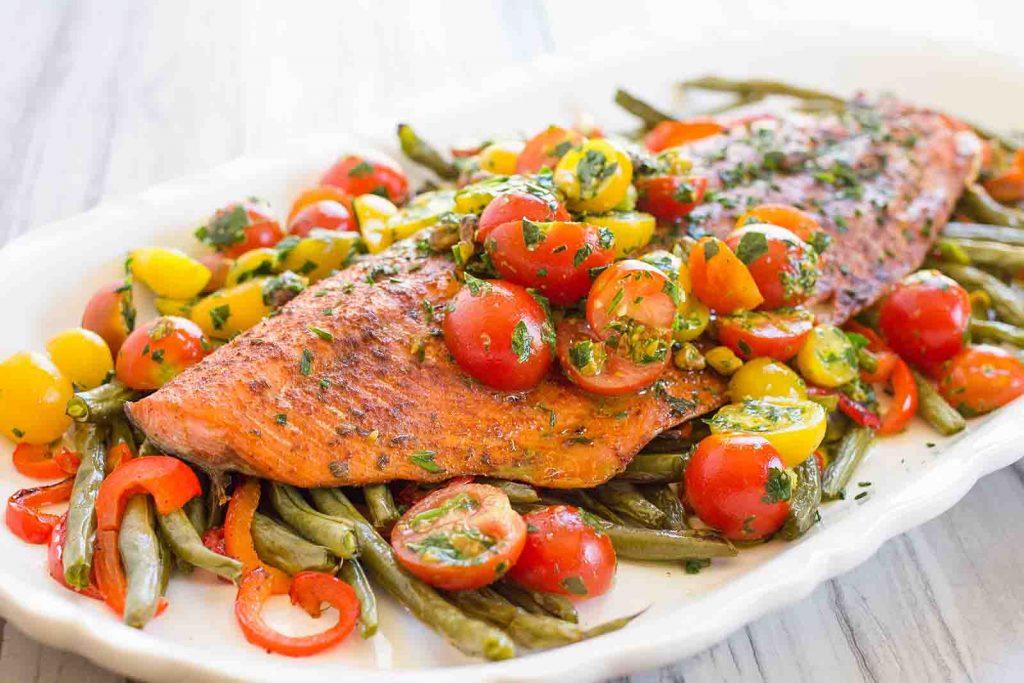 Since you can't eat grains or dairy on the Whole30 diet, it's a good idea to load up on veggies and animal-derived protein to keep you full. This one-pan roasted salmon with veggies recipe from Simply Recipes can be made in just 30 minutes and has a list of ingredients that's made up solely of healthy, Whole30-approved food items. The green beans, bell peppers and salmon filet are topped with a harissa spice blend and then baked in the oven. A fresh tomato salad made using a blender or food processor is then smeared over the salmon.
Pro Tip: Remember to ask for a boneless salmon filet at the grocery store!
3. Zoodles With Creamy Cashew Pesto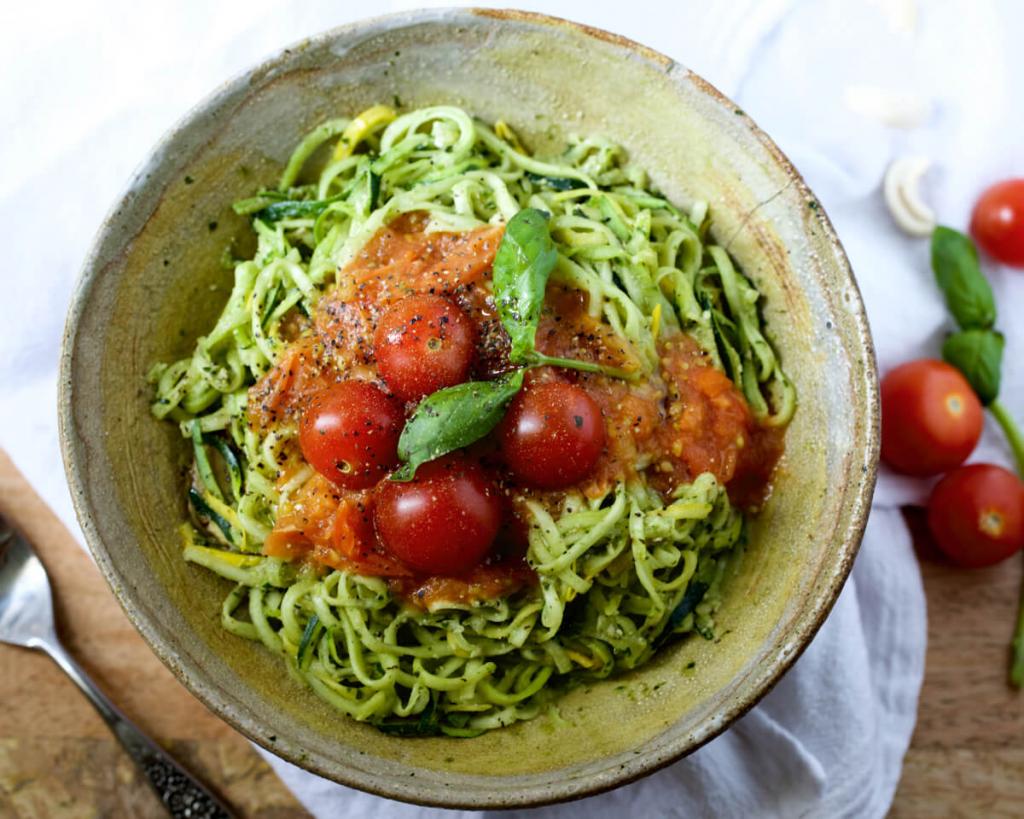 This raw zucchini pasta with pesto recipe from Food Heaven Made Easy will help you get through 30 days without real pasta. You can either make these zoodles from scratch using a spiralizer or buy a pre-made variety from your local grocery store. To make the pesto you'll need fresh basil, garlic powder, raw cashews (or any other nut, except for peanuts), olive oil and salt to taste. You'll also need a food processor to blend all the ingredients together. A food processor will come in handy for many healthy, quick recipes and you can buy one on Amazon for $36.
4. Roasted Veggie Bowl With Fried Egg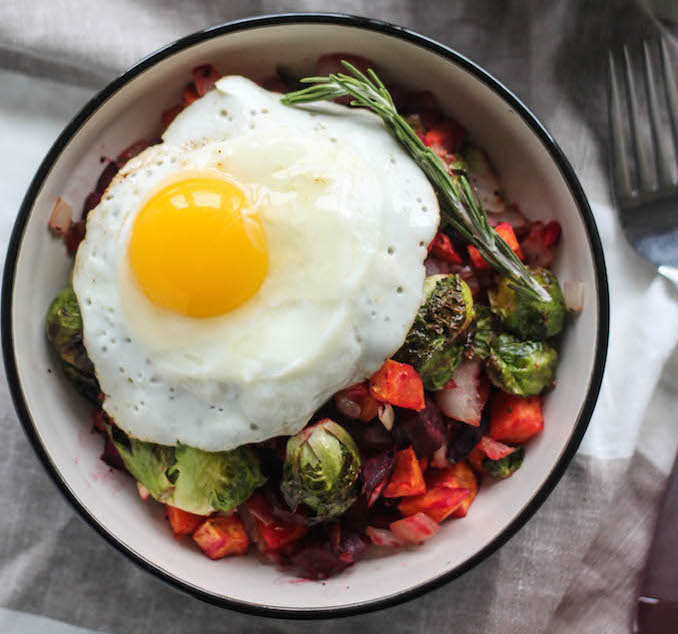 You can't eat much when following the Whole30 diet, but you can (and should) eat a lot of vegetables. That's why we love these rosemary roasted vegetable bowls (recipe from Destination Delish) that are loaded with fiber-rich veggies and topped with a fried egg for protein. These bowls consist of roasted Brussels sprouts, sweet potatoes, beets and onions seasoned to perfection with fresh rosemary, salt, pepper, garlic and olive oil. The recipe calls for topping your roasted veggies with Dijon Mustard. We recommend skipping this last step if you're not going to make homemade Dijon dressing because many store-bought varieties contain added sugar.
5. Baked Chicken And Veggie Roll Ups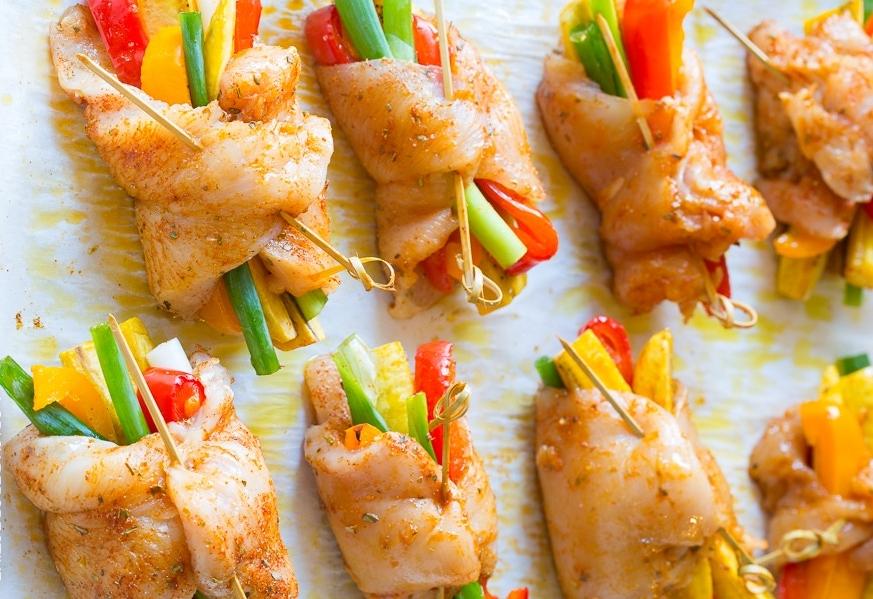 These baked chicken and veggie roll-ups are portable and require only five, Whole30-approved ingredients to make (minus the spices). For this recipe from A Spicy Perspective, boneless, skinless chicken breast cutlets are seasoned with cumin, paprika, oregano, garlic powder, salt and black pepper. The chicken cutlets are then wrapped around roasted plantains, bell peppers and scallions. The end result is a dish that's both sweet and savory, but devoid of sauce and low in carbs.
6. Taco Stuffed Avocados
You can't really hit up your neighborhood food truck for a classic taco when following the Whole30 diet, but these taco-stuffed avocados will help reduce your street-food cravings. This recipe from Averie Cooks can be made in just 15 minutes using halved and pitted avocados, ground beef, taco seasoning, tomatoes and cilantro. To make it Whole30-approved, simply nix the cheese. If you plan to buy your taco seasoning, make sure it doesn't contain any added sugar or other ingredients on the Whole30 blacklist. If you want to be extra careful and you have some extra time on your hands, consider making homemade Whole30 taco seasoning from scratch.
We hope you find these products useful! Swirled may be compensated when users click on the affiliate links in the story above. Products are in stock at the time of publication.
RELATED
Here's What You Need To Know About Food Cleanses
Yes, You Can Go Whole30 Without Ruining Your Social Life
7 Whole30 Snacks That Are Super Easy To Make At Home