Drive From Canada To Mexico On This Cross-Continent Dream Road Trip
North America is a huge continent, but it's possible to drive across the three countries contained within the continent in one trip. This itinerary takes you from Canada's mountains all the way to Mexico's deserts and beaches. Here's how it all goes down.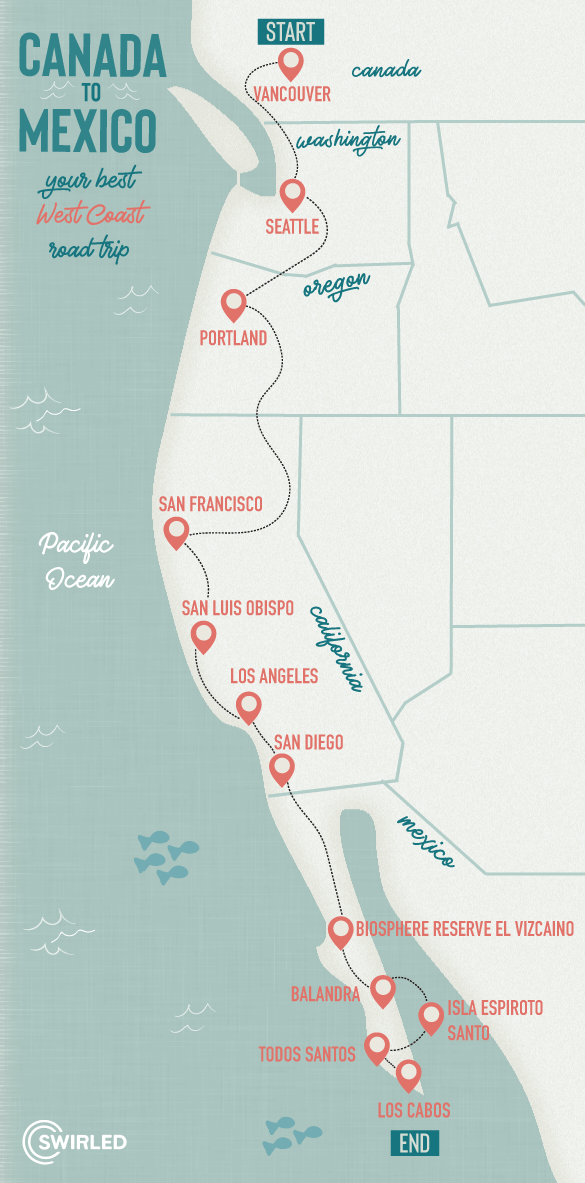 Let's talk about your day-by-day itinerary.
Day 1: Arrive in Vancouver and explore.
Fly into Vancouver and spend your first day in Canada's coolest city. Vancouver has hipster haunts, a sleek downtown and access to the nearby mountains.
Day 2: Drive to Seattle and explore.
You can cross into the U.S. from Vancouver and start your journey through the Pacific Northwest's temperate rainforests and quirky cafes, breweries and boutiques.
Driving time: 2.5 hours
Day 3: Drive to Portland and explore.
There's no missing the Pacific Northwest's weirdest city. You'll want to wander the marina, grab some donuts and enjoy all the "Portlandia" vibes.
Driving time: 3 hours
Day 4: Drive to San Francisco.
It's a hike to drive to San Fran from Portland, but the drive is beautiful. You'll need 10 hours on the road, but we guess it'll take you from early morning to late evening because of all the tempting coastal views you'll need to stop to photograph.
Driving time: 10 hours
Day 5: Explore San Francisco.

You need an entire day for San Francisco. The West Coast city is everything. It has food (try Chinatown), culture (try the Haight Ashbury district) and coast (visit Pier 39).
Day 6: Drive to San Luis Obispo and explore.
It's tough to pick a spot to stop along the California coast because it's worth its own road trip, taking it slowly from town to town. But we like San Luis Obispo best, with Santa Barbara coming in a close second.
Driving time: 3 hours
Day 7: Drive to Los Angeles and explore.
LA is its own thing. You can't expect to see much in a day because of the sprawl, so just pick a part of town and see what you can see. We'd suggest West Hollywood, Silver Lake or Venice Beach.
Driving time: 3 hours
Day 8: Drive to San Diego and explore.
Make sure to stop in La Jolla on the way south into San Diego for gorgeous coastal views and maybe some seal sightings. Once you're in the city, hit Balboa Park and the Gaslamp District.
Driving time: 2 hours
Day 9: Drive through Biosphere Reserve El Vizcaino.
Another long day of driving will be worth it to skip overtouristed Tijuana and Ensenada right across the Mexican border with California. Instead, head towards El Vizcaino and enjoy the environment of the protected natural area.
Driving time: 10 hours
Day 10: Drive to Balandra.
One of the most spectacular beaches in Mexico is another day's drive south, so load up on some car snacks and keep on trucking. Once you reach Balandra, dive right into the crystal clear waters.
Driving time: 8 hours
Day 11: Explore Balandra.
The beaches here will blow your mind. After two long days in the car, you'll be thrilled to stretch out in the sand and soak up all the sunshine. You may even spot a manta ray!
Day 12: Explore Isla Espirito Santo.
The Holy Spirit Island is a UNESCO World Heritage Biosphere Reserve and a great place to see tropical fish, sea lions and birds. You can swim, kayak or just wander by foot.
Driving distance: Minimal, but you'll need a boat to get to the island.
Day 13: Drive to Todos Santos.
Cultural landmark Todos Santos is your last stop before heading out. It's called a "Magical Town" by the Mexican government and home to many art galleries.
Day 14: Depart from Los Cabos International Airport.
Saying goodbye to Mexico, catch a flight from Cabo home.
Driving time: 1 hour
RELATED
This Week-Long Southern Road Trip Blends City And Country
The Mountains Are Calling On This Ultimate Road Trip Through The Rockies
The Ultimate 1-Week California Road Trip Itinerary