Indulge In This Blueberry Banana Mug Cake Without Wrecking Your Health Goals
Sugar cravings have a powerful way of derailing even the most steady nutrition goals, but it doesn't have to be that way. It's possible to channel the natural sweetness from good-for-you foods into an evening treat that tastes decadent and makes the rest of your body feel good at the same time.
Julie Fox, the founder of Julie's Real, has mastered this careful balance between good for your body and good for your soul over the past couple of years. After her husband was diagnosed with a health disorder that required a massive shift in diet, Fox started creating recipes for tasty nut butters, granolas and treats that are grain-free, dairy-free and void of all processed ingredients and refined sugars.
Her latest recipe creation is nothing short of mouthwatering. Loaded with fresh fruit and her cinnamon vanilla bean cashew butter, this mug cake treat is ready in literally minutes and it tastes nothing like any "diet" food we've ever tried. So go on — have your cake and eat it, too.
Julie's Real Blueberry Banana Mug Cake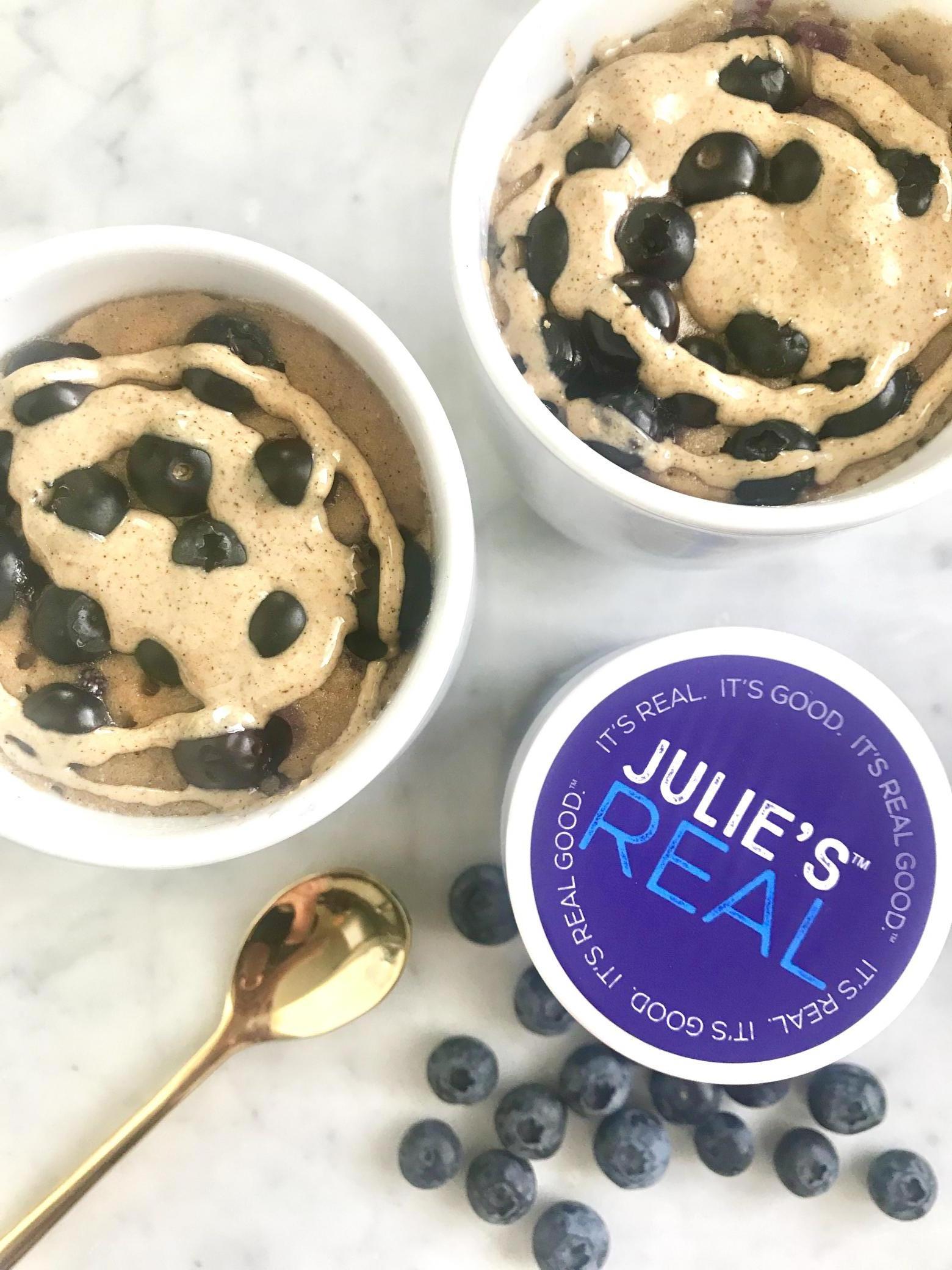 Ingredients
Cake:
1 mashed banana
2 Tbsp coconut flour
2 Tbsp maple syrup
2 Tbsp cashew milk
1 Tbsp Julie's Real Cinnamon Vanilla Bean Cashew Butter
Handful of blueberries
Dash of cinnamon
1 egg
Drizzle:
1 Tbsp Julie's Real Cinnamon Vanilla Bean Cashew Butter
1/4 tsp coconut oil
Directions
Mix the first seven ingredients well. Then add the egg to the spiced-up mashed banana mix. Cook the mixture in a microwave-safe mug in the microwave for 1 minute and 45 seconds. Heat 1 tablespoon of Julie's Real cashew butter and 1/4 teaspoon of coconut oil for 20 seconds in a separate bowl and mix them together. Drizzle it on top of the mug cake, let it cool and dig in!
Sign up for our newsletter.
Say hello to the best part of your day.