11 Insanely Easy Kitchen Gadgets You Don't Need But Will Totally Want
Sometimes, cooking can be a slow labor of love. And other times, you just want a shortcut. Luckily, there are a ton of kitchen gadgets out there that can make your life way easier. We all know how to cut corn off of the cob, but it's also amazing to have a tool that does it for you. Here are 11 useful gadgets that you definitely don't need but totally want in your kitchen.
No matter what kinds of herbs you're grinding, this tool will come in clutch whenever you're cooking. It'll mince your thyme or rosemary smoothly without tearing or bruising the leaves. Use it when you're shredding herbs for salad dressings, sauces or garnishes.
When you're making a salad or pasta recipe and you need halved cherry tomatoes, it seems like a pretty tedious process. You also have to worry about the tomatoes flying off the cutting board and across the room as you slice into them. But you can easily halve several cherry tomatoes or grapes at a time with this serrated zip slicer.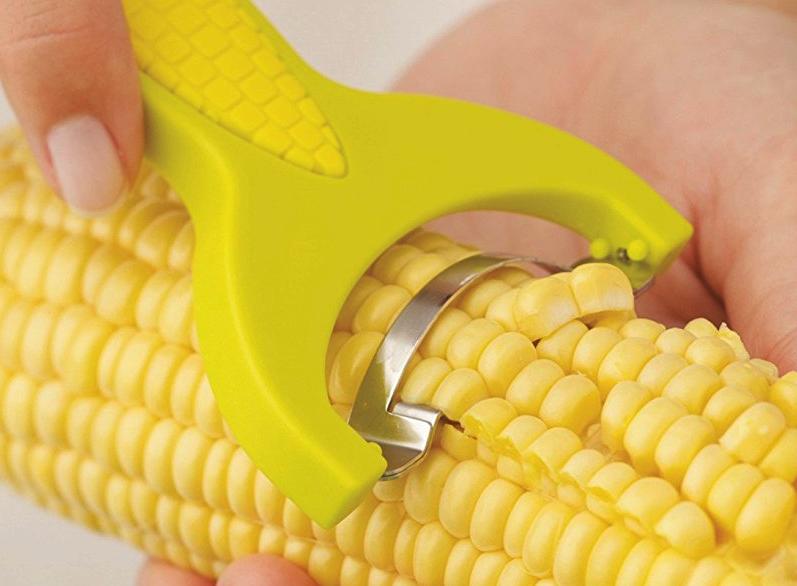 When you're making corn and you don't feel like getting kernels stuck in your teeth, or you need it off the cob for a recipe, you can use a corn stripper. This tool will effortlessly take the kernels right off the cob. It looks kind of like a vegetable peeler and you can easily hold it by its handle when you're shaving off the kernels.
When you need to cut herbs or scallions, you can save a lot of time with herb scissors. Two snips of a scallion with these scissors equal about five knife chops. The blades are sharp and the silicone handle makes them easy to grip.
It sucks when you spend time baking a pie or cake only to have it ruined seconds later when everyone digs in. This cake slicer basically keeps your masterpiece intact when a slice is being transported from the dish to your plate. It's easy to use and easy to clean. Also, it'll slice everything equally so no one can complain about not getting enough cake.
No matter what you're cooking, chances are a cutting board will come into play at some point. Probably one of the most annoying parts about chopping vegetables is when you slide the veggies off of the board and into the pot. Everything falls all over the place. This cutting board folds up so you can easily guide your veggie pieces into the pot rather than losing half of them in the process.
Straining your pasta or veggies is usually pretty clumsy and you'll always end up with a few sink casualties. But when you attach this strainer to your pot and easily pour out the liquid that way, you'll dirty fewer dishes and save space when your sink is crammed with other stuff.
When you're boiling water or simmering something for a while and need to leave your lid slightly ajar, a lid lifter will come in handy. You'll let circulation occur as well as prevent liquid in the pot from overflowing. If you're someone who gets easily distracted while cooking, these little silicone people will save your ass.
If you forget to chill your wine before dinner, an instant wine chiller can solve your dilemma. You just insert the frozen tube into the neck of the bottle of wine and pour. Your wine will be instantly chilled as it passes through the inner frozen tube. You can keep the device in the freezer when you're not using it and it'll stay cold for about 90 minutes once you take it out.
Peeling and cutting garlic is a pungent activity. If you don't want to get your hands smelly in the process, this garlic peeler is easy to use. You just slip an unpeeled clove or two of garlic inside and roll it around. It's easy to clean up after, too — just give the inside of the tube a quick rinse. No fuss.
If you're making a salad or sautéing some leafy greens, you could be standing there picking the leaves off of the stems for a while. This leaf-shaped tool works with collard greens, kale, Swiss chard and woody herbs like oregano, rosemary, time and tarragon. You basically just stick the stem through the hole on one side and pull it through on the other. You'll get the most yield from your leafy greens and herbs this way.
Swirled may be compensated when users click on the affiliate links in the story below. Products are in stock at the time of publication.