This O.G. Eggplant Parm Recipe Is The Best You've Had
Without a doubt, eggplant parm is the best dish to make when you're trying to impress someone. Who wouldn't love the mix of earthy, crispy eggplant, fresh basil, rich Italian cheeses and sweet tomatoes? Plus, you'll actually look like you know what you're doing if you whip up a pan of eggplant parm.
Known in Italy as parmigiana di melanzane, the classic dish has origins in Southern Italy, especially in Naples, Calabria and Sicily. Every cook has a different variation on the decadent dish. Some dip the eggplant in egg and breadcrumbs, others coat it in flour and if you're looking for something a little lighter, you might bake or grill the eggplant. Doesn't matter how you slice it, this recipe is a home run.
Anyone can do it. Eggplant prep is the only time-consuming part of the recipe, but it's a necessary step. After all, eggplant is the star here. Since the ingredients are so minimal, make each one count. Go to the cheese counter and treat yourself to the good stuff: freshly grated Parmigiano-Reggiano and a fresh piece of mozzarella. Look for the juiciest or ripest tomatoes you can find. Get yourself a basil plant, you won't regret it. Oh, and don't forget the wine. A full-bodied Chianti will do the trick.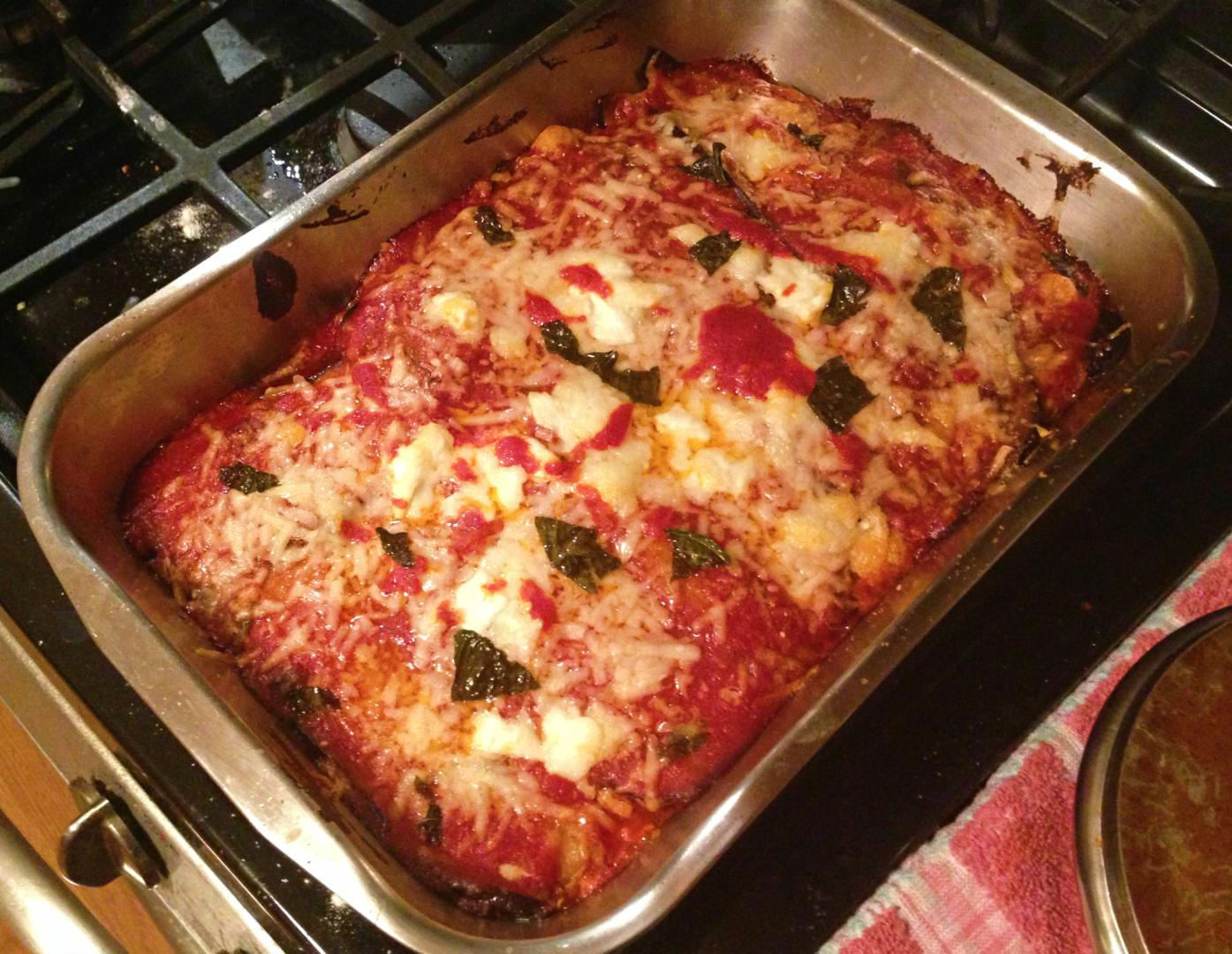 How To Make Eggplant Parm
Ingredients
For the tomato sauce:
2 cloves of garlic, crushed
1 small yellow onion, chopped
1 large can of tomatoes, San Marzano are the best
2 basil leaves
1 tsp. sugar
Extra virgin olive oil
For the eggplant:
3-4 large eggplants, peeled and thinly sliced
1 cup of flour
1 tsp. salt
1 tsp. black pepper
For assembling:
1 large ball of fresh mozzarella cheese, sliced
3/4 cup to 1 cup of freshly grated Parmigiano-Reggiano
3 to 4 fresh basil leaves
baking pan
frying pan for eggplant prep
Instructions
You'll need to prep the eggplant. In order to get rid of the excess liquid (so that your eggplant parm isn't watery down the road), sprinkle the slices with salt and lay them in a colander, which is on top of a plate or something to catch the liquid. Place another plate on top of the eggplant and then press it down with a can or something heavy. Leave it for about an hour.
Now, you could go one of two ways. The healthier way would be to dip the slices in egg and flour first and then bake them until golden brown. But we're going old-school Italian here, so bear with us, we're gonna fry.
Once you've drained the eggplant of any excess liquid, combine the flour, salt and pepper. Spread out the mixture on a plate. Coat each eggplant slice with the flour mixture.  Shallow fry the eggplant slices over medium heat (vegetable or canola oil) until each side is golden brown. You'll need to do this in batches. When each batch is finished, lay them on a bunch of paper towels to absorb the excess oil.
Time to prep the tomato sauce. Add a little olive oil to the pan and add the crushed garlic and onion. Once the onions are translucent and the garlic is cooked, add in the can of chopped tomatoes, basil and sugar. Simmer the sauce for about 15 to 20 minutes. You can add a little water to the sauce before simmering to loosen it up.
Take your baking dish and spread a little sauce to coat the bottom of the pan to prevent any sticking. Add a layer of eggplant, cover it with more sauce, sprinkle some parmesan, evenly distribute slices of mozzarella, add shredded pieces of basil leaves, add another layer of eggplant and repeat.
When you use up all of the eggplant, finish it off by sprinkling parmesan on top. Bake it at 400 degrees Fahrenheit for about 30 minutes or until the dish is bubbling hot and golden brown. Let the dish cool a little before serving. You can also make this ahead of time and reheat it. We promise it'll be just as good. Serve your masterpiece with a bottle of Chianti for the ultimate pairing.