7 Of Our Favorite Chocolate Brands That You Need To Try
There's no such thing as too much chocolate. Some chocolate lovers are brand loyal, while others love to experiment. It's easy to become overwhelmed by all the choices out there and go for that tried-and-true brand, but that's where you're missing out. For you adventurous souls, it's about time to discover your new favorite chocolate.
We tasted a wide range of chocolates made by the most decadent of companies (all for research purposes of course) and we're here to share our top recommendations. You may not have heard of these confectionary creations before, but they should be at the top of your list and will definitely satisfy your sweet tooth.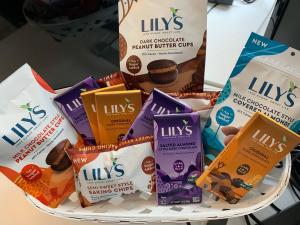 The Chocolate: Lily's creates a wide range of chocolate products, including extra dark, dark and milk chocolate-style bars, chocolate chips, chocolate-covered almonds, chocolate-covered peanuts and peanut butter cups. They come in a variety of flavors like blood orange, coconut, crispy rice, almond and caramelized. We love a Lily's peanut butter cup as an afternoon treat or dipping strawberries in the dark chocolate baking chips for an after-dinner delight.
The 411: If you're a chocoholic looking for an option that won't send you into a total sugar coma, Lily's should be your go-to. The company, which was founded in 2011, swaps out sugar for stevia in all of its chocolate products. "Many people strive to avoid sugar, which is why we wanted to create a chocolate option that has all of the indulgences as traditional chocolate, with a fraction of the sugar," Cynthia Tice, co-founder of Lily's Sweets, told Swirled. "Every serving of Lily's Sweets has less than one gram of sugar, plus 25 percent fewer calories."
The Chocolate: If you've never tried gray and smoked salt caramels, you need to. Fran's kills it with these smokey caramel treats. If you're looking to try something bold, the truffles assortment box features flavors like oolong tea, milk chocolate espresso, single malt whiskey and hazelnut crunch. Our personal favorites are the decadent hazelnut crunch and bold milk chocolate espresso.
The 411: Fran Bigelow is an artist and master chocolatier based in Seattle, Washington. You can tell from the way her chocolate boxes are artfully-wrapped, how much attention to detail is paid. Fran's is all about maintaining the purity of the chocolate and pairing it with simple selective ingredients. She's often given credit for sparking the artisan chocolate renaissance here in the states.
The Chocolate: Divine makes its chocolate bars in flavors like 85 percent dark chocolate (the percentage stands for how much of the product comes from the cocoa bean), 70 percent dark chocolate, 70 percent mint dark chocolate, dark chocolate and sweet chili and 70 percent dark chocolate with raspberries. Our favorites are the milk chocolate with toffee and sea salt, and the dark chocolate with raspberries, which has a nice crunch and fresh bits of raspberries.
The 411: Almost 50 percent of this company is owned by the family farmers who grow the cocoa at the Kuapa Kokoo co-op in Ghana, West Africa. That's a pretty significant amount.
Divine chocolate is 100 percent fair trade with a focus on women and creating gender equality in cocoa farming. Liz Miller, the Senior Marketing Manager for Divine here in the United States, says, "Women farmers are key to the quality of cocoa." Miller also mentions how for women here in the states, chocolate is eaten for pleasure, while for women in Ghana, cocoa is pretty much their livelihood.
The Chocolate: Tony's makes its chocolate in flavors like extra dark, dark almond sea salt, dark pecan coconut, milk caramel sea salt and dark coffee crunch. Our personal favorites are the milk caramel sea salt and the dark almond sea salt. The salty to sweet ratio is pretty perfect and the creaminess is real. Tony's bars are thicker than most so you're getting a substantial amount of chocolate in each colorful eye-catching wrapper.
The bars are sectioned into all kinds of geometrical shapes to educate people about farmer inequality behind the chocolate industry.
The 411: If you want to eat chocolate and also feel good about it, Tony Chocolonely is a brand to get behind. Tony's is one of the biggest chocolate brands in Amsterdam. The chocolate company pays fair farmer wages and has created a traceable and trustworthy bean-to-bar process.  Yes, the chocolate is all kinds of creamy and smooth, but the chocolate company's main goal is "making 100 percent slave free chocolate the norm," according to Dena White, Tony's Marketing Manager in the United States.
The Chocolate: Theo makes funky chocolate flavors with 70 percent cocoa like coconut and orange and a 45 percent milk chocolate called cinnamon horchata, which was by far our favorite with just the right amount of cinnamon. There's also coconut turmeric chocolate clusters, which are a perfect crunchy bite-sized snack.
The 411: Theo Chocolate's Emily Benson believes "the very definition of quality places equal importance on people, planet and profit." Founded in 2006, Theo is known as one of the first, if not the first, organic, fair trade-certified chocolate maker in North America.
Ethically sourced chocolate means the cocoa farmers can work to be profitable, while customers can buy Theo at a reasonable price. 70 percent of the cocoa is sourced from the Congo, while the remaining 30 percent comes from Peru.
The Chocolate: Aside from the gorgeous, artistic design of the packaging, the chocolate itself is nothing less than outstanding. Pure and simple, each bar, which highlights its origin country and cocoa percentage, puts the chocolate at the center of your palate. With each bite you'll taste nuanced flavors like apricot, red wine or pears. We particularly love the hazelnut bar, which is luscious and smooth on the tongue, and includes real hazelnut bits on top.
The 411: If we could give a specific prize for pretty packaging, Omnom Chocolates would win, hands down. The company, which came into conception in 2013 by former chef Kjartan Gíslason, is built purely on the curiosity of and passion for chocolate. The company prides itself on sourcing the best organic ingredients from countries around the world, like Nicaragua, Tanzania and Madagascar.
The coolest part about the company? Every employee is empowered to make his or her own chocolate creation. "It doesn't matter if you're in delivery or sales — everyone is required to make his or her unique recipe," Gíslason told Swirled. "It can be a bar of basic dark chocolate or something more inventive. It really gets everyone onboard."
The Chocolate: In terms of flavors and types of chocolate, you can expect a broad range that appeals to nearly every palate. Innovative flavors like matcha, violet and burnt caramel make Vosges stand out, while the company's truffle sets will fuel your chocolate obsession. Our favorites? The hazelnut and banana pudding truffles, which are the epitome of melt-in-your-mouth decadence.
The 411: Since its founding in 1998, Vosges Haut Chocolat has become known for its unique flavors and smart sourcing. The chocolate company's manufacturing facility operates on 100 percent renewable energy and only uses sustainable ingredients through allies like Rainforest Alliance organic chocolate.
Even better: Its packaging for all chocolate bars and boxes is made of 100 percent post-consumer recycled material. The company told Swirled, "As an innovator in the luxury chocolate category, Vosges Haut Chocolat was the first to combine exotic indigenous spices, herbs, flowers, roots, and liqueurs with premium, ethically sourced chocolate."