You Can Fly Roundtrip From The U.S. To Zürich For $336
If you've been thinking about visiting the rolling hills and tasting the creamy, well-crafted chocolate of Switzerland, now is your ultimate opportunity. A flight deal from the U.S. to Zürich is on offer for roundtrip airfare from a number of cities for as low as $336.
Yes, dreams do come true, and you can visit the beautiful country for a fraction of the price you'd normally pay.
Prices on flights leaving cities like New York, Miami and Boston are significantly lower than usual, starting at just $336. You can find the best deals in the fall months of this year with carriers like IcelandAir, JetBlue and TAP Portugal.
Here's how to get the deal:
Head to Google Flights and enter your departing city, as well as your destination city, Zürich. Look at the calendar feature for the best deals, which are highlighted in green. We found a flight leaving New York City on September 17 and returning on September 22 for that incredible $336 price: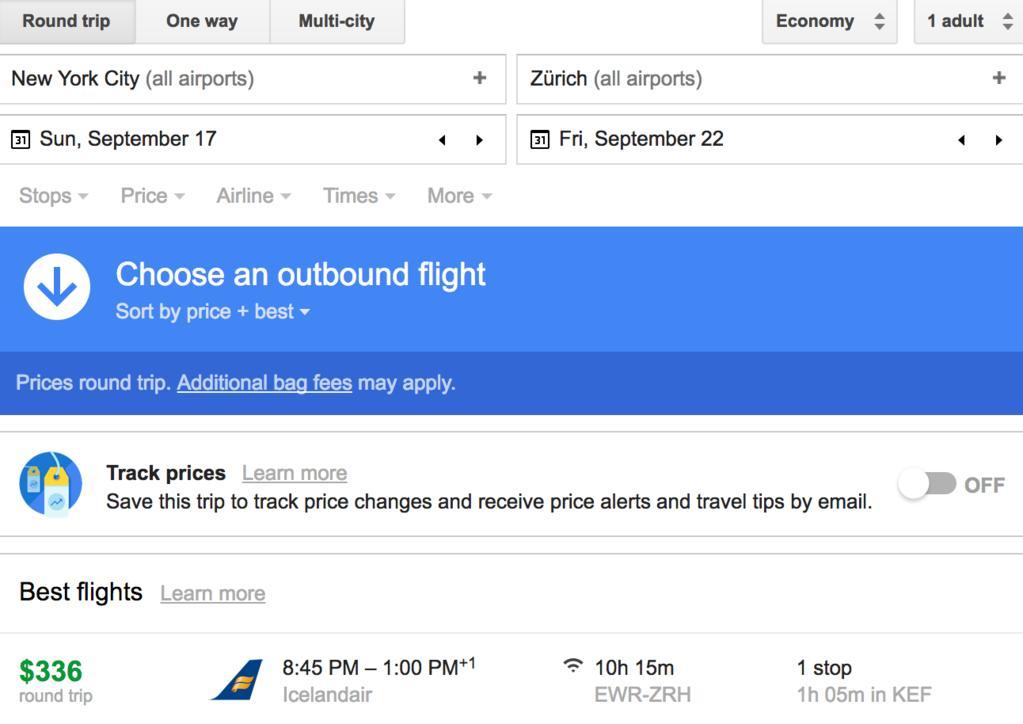 We also found a flight leaving Boston on October 11 and returning on October 16 for just a bit more at $433. And then there's a flight leaving Miami on November 30 and returning on December 3 for $474.
A trip to Switzerland would be a total dream, and if you agree, you can live out that dream this year. Flight deals like this don't last long, so jump on it if you're ready for your next European adventure.
Sign up for our newsletter.
Say hello to the best part of your day.