Here Are The Most Efficient Natural Cleaning Products
Let's face it — so many mainstream products are packed with chemicals and artificial scents that can make kids and pets sick. One of the only true environmentally- and health-friendly options is to go green. But if you're worried about the effectiveness of natural cleaning products, worry no more. Here are five great all-natural products that pack a punch when it comes to keeping your home spick and span.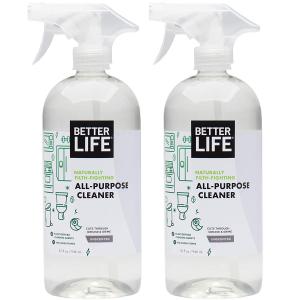 If you're in the market for an all-purpose cleaner, go for the Better Life brand. With a 4.9 out of 5-star rating, this plant-based cleaner is both organic and effective on tough stains, spots and general grime. One reviewer says, "So many things to love about this all-purpose cleaner, love the smell and how it cleans, the price, and that it is safe to use around pets and those in my family that are allergic to strong chemicals in so many of the other cleaners out there today."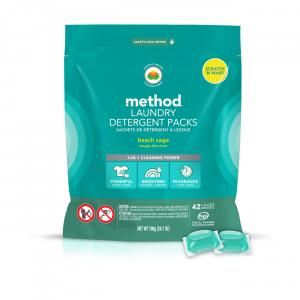 We love the fresh scent of a clean load of laundry sans the chemicals. These pods from Method fight tough stains with naturally derived cleaning power, not harsh bleach or toxic ingredients. These small, yet mighty pods work great in hot or cold water and are compatible with high efficiency machines. Oh, and they're hypoallergenic and smell so good. Go ahead and love laundry day again!
Kitchen grease stains are no joke. Have you looked inside your oven lately? Unlike some eco-friendly products that may not be as effective as mainstream products, Grab Green's power degreaser works on even the toughest oven stains and unpolished metal. One reviewer says that despite being skeptical about this product's effectiveness, "This degreaser tackled the oven hood and stovetop grease with little effort and no elbow grease! The fact that it smells heavenly is a plus."
If there's one thing you don't want to skimp on, it's toilet bowl cleaner. You don't want to take the chance of letting harmful bacteria like E.coli go wild in your bathroom, but don't shy away from eco-friendly products, either. Eco Me has an incredible plant-based toilet bowl cleaner in a pleasant (and natural) herbal mint scent that safely removes all the grime from your porcelain throne. The product received 4.3 out of 5 stars and one reviewer says, "This stuff smells amazing and works every bit as well as the toxic nasty alternatives."
For those days when you just don't have the time to scrub down every surface, wipes come in handy. Unfortunately, so many mainstream wipes have harsh chemicals and artificial scents. But Seventh Generation's disinfecting wipes claim to kill just as much bacteria (99.99 percent) using a natural, thyme-based formula and a lemongrass citrus scent. With a 4 out of 5-star rating, the product is described by one reviewer as "light, gentle smell that isn't antiseptic at all. They smell fresh and clean, not overly lemon-y or floral like some wipes can be. And they're green so I feel better about using a disposable product."
Sign up for our newsletter.
Say hello to the best part of your day.